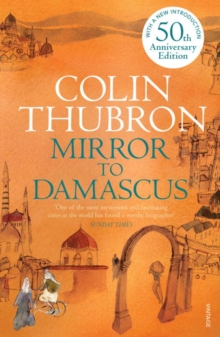 Mirror To Damascus : 50th Anniversary Edition
Paperback
Description
50TH ANNIVERSARY EDITION WITH A NEW INTRODUCTION BY THE AUTHORDescribed by the author as simply 'a work of love', Mirror to Damascus provides a rich and fascinating history of Damascus from the Amorites of the Bible to the revolution of 1966, and is also a charming and witty personal record of an extraordinary city. In explaining how modern Damascus is rooted in immemorial layers of culture and tradition, Colin Thubron explores the historical, artistic, social and religious inheritance of its people.
Along the way, he shares unforgettable stories about the enterprising travellers of bygone days. Mirror to Damascus is a unique portrait of a city now obscured by recent upheavals, by one of the most indefatigable and popular of travel writers.
Information
Format: Paperback
Pages: 368 pages
Publisher: Vintage Publishing
Publication Date: 04/12/2008
Category: Travel writing
ISBN: 9780099532293
Free Home Delivery
on all orders
Pick up orders
from local bookshops
Reviews
Showing 1 - 2 of 2 reviews.
Review by philipblue
16/06/2015
When Colin Thubron was in Damascus in the 1960s, his overwhelming feeling was of a city in interminable decline, tossed and blown by ill winds as they buffeted the city relentlessly, a far cry from its apogee in the eighth century. It was also a changing city: the modern world at its doorstep and the traditions and ways of life that gave Damascus its romantic ideal were passing away to a world of apartment blocks and factory jobs.Plus ça change. Damascus still feels like a place in decline, and with the current drought, more people than ever are leaving their romanticised jobs to find modern work in the city. While lots has changed since Thubron wrote Mirror to Damascus in 1967, the way he captured the mood of the place (dusty, living in the past, bursting with history, irrational, declining, but above all friendly) stands the test of time.The book traces the history of Damascus from Cain and Abel's spat, which Damascenes believe took place on their doorstep, to the French Mandate. Thubron mixes historical detail and local gossip with attempts (and sometimes failure) to find significant monuments from each moment in history: the Omayyad Mosque, the Citadel, Turkish Hammams, churches and so on. Perhaps most interesting is the account of the people, their variety and the way they variously fought and lived peacefully together. In one splendid chapter he delves into the Jewish Quarter's history, in another he looks at the art of the Whirling Dervishes.Many of the buildings and experiences Thubron describes can no longer be seen or had by the modern visitor, which is to be expected of a book published more than 40 years ago. But many are still there, and as a description of Damascus this book is unrivalled. Its descriptions of the ebb and flow of political and religious change in Syria and the Middle East, and how Damascus fits into that jigsaw, can be difficult to follow. The focused nature of the book on a single city makes that inevitable. If the reader is prepared to live with the confusion, or to read a broader history beforehand, then Mirror to Damascus is as good today as it was when it was written.
Review by CharlotteN
16/06/2015
This book was like eating a rich, sticky chocolate pudding. The language was beautifully written, but so full of description that I couldn't read more than a few pages at a time before I needed to read something lighter or do something else altogether. Needless to say, it took me a lot longer to finish this book than its size would usually allow and I did struggle to get through some sections. Having said that, the chapters on historical narrative were fascinating and this book drew a very detailed picture of a city that I would dearly love to visit myself.