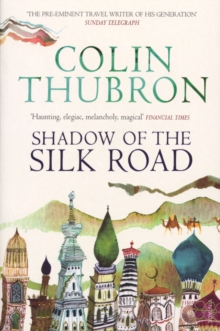 Shadow of the Silk Road
Paperback
Description
On buses, donkey carts, trains, jeeps and camels, Colin Thubron traces the drifts of the first great trade route out of the heart of China into the mountains of Central Asia, across northern Afghanistan and the plains of Iran into Kurdish Turkey.
Covering over 7000 miles in eight months Thurbron recounts extraordinary adventures - a near-miss with a drunk-driver, incarceration in a Chinese cell during the SARS epidemic, undergoing root canal treatment without anaesthetic in Iran - in inimitable prose. "Shadow of the Silk Road" is about Asia today; a magnificent account of an ancient world in modern ferment.
Information
Format: Paperback
Pages: 384 pages
Publisher: Vintage Publishing
Publication Date: 04/10/2007
Category: Travel writing
ISBN: 9780099437222
Free Home Delivery
on all orders
Pick up orders
from local bookshops
Reviews
Showing 1 - 2 of 2 reviews.
Review by LynnB
16/06/2015
Colin Thubron has written this account of his 7000-mile trip along the Silk Road, from China to Turkey.At times I loved this book. Mr. Thubron encounters many interesting people in his journey and has an ability to draw out their stories, dreams, hopes and fears. Sometimes humourous, sometimes sad, his stories of the people were wonderful. They reminded me a bit of John Berendt's marvelous way of finding and introducing fascinating people to the reader.At other times -- unfortunately too many -- I found myself lost and confused. Mr. Thubron's descriptions of paintings and architecture, and his fictional conversations with an imaginary friend were beautifully written. He has a flair for description and evoking imagery that is unsurpassed. But too much of a good thing isn't a good thing. I often wondered "where is he again? What is he describing now?"Glad I read this, but I don't think I'll be looking for more by this author.
Review by Opinionated
16/06/2015
Very interesting - Thubron is clearly a very hardy and monastic soul seemingly perfectly suited to this lonely trip. He treats all the people he meets with genuine interest and gentle humour and copes with rugged conditions without over romanticising them, taking pain and privation without seeming to notice. Its a melancholy book; the former glories of the region are recalled and placed in stark contrast to the realities of today - or rather to 5 or 6 years ago. One suspects that some of the route might be more depressing today. And yet although Thubron is occasionally surprised by changes to places he's visited before (particularly in China) he is never sniffy about modernisation (as for example, Paul Theroux often is) and seems to be comfortable with change. I hadn't read any of Mr Thubron's travel writing in book form before (i have read short pieces in Granta) but I have a couple of his novels. But so enjoyable is his company that I will be buying more at the earliest opportunity