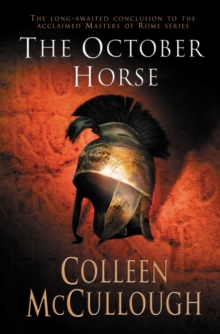 The October Horse
Paperback
Description
The sixth book in the epic Masters of Rome series Julius Caesar is in the prime of his life and at the height of his powers.
But behind the myth lies a man beset with contradictions.
Happily married, he is also the lover of the enigmatic Egyptian queen, Cleopatra.
A great general, he wishes to bring to an end Rome's endless wars.
Conscious of his own power, and contemptuous of lesser men, he is determined not to be worshipped as a living god or crowned emperor.
But Caesar is a man whose very greatness attracts envy and jealousy to a dangerous degree, and as the political intrigues which surround him reach their climax, his destruction becomes inevitable.
As the Ides of March approach, one of the most powerful stories in history reaches its dramatic conclusion -
Information
Format: Paperback
Pages: 1120 pages
Publisher: Cornerstone
Publication Date: 01/08/2003
ISBN: 9780099280521
Free Home Delivery
on all orders
Pick up orders
from local bookshops
Reviews
Showing 1 - 2 of 2 reviews.
Review by john257hopper
16/06/2015
A great series, though to be honest I enjoyed this slightly less than the others...perhaps due to the long gap between publication of this and the previous book in the series.
Review by surreality
16/06/2015
Plot: The time span between Pharsalus and Philippi. This book gets back on track with action-driven plotlines - first Caesar, then Octavian and Mark Antony as the central figures. There are fewer side plots and background stories than before, and a few gossipy stories belonging into this time frame aren't picked up as they were in earlier volumes. Characters: Caesar follows the path of Marius and Sulla and becomes more interesting the more flaws he develops. Octavian already starts out as a not-too-likable character, while Mark Anthony is sketched a little too stereotypically as a brute. The side characters are the interesting ones once more, though they suffer from not getting as many scandals told as before. Style: The books departs from previous installments by utilizing stream-of-consciousness techniques regularly, not always with success. Third person suits McCullough's style better than first person, and the insights are usually limited and don't add much. Fewer letters than before. The writing feels less dense and lighter to read and there's an undercurrent of the book having been dumbed down just slightly. Fewer maps, which is a blessing, but still the character drawings and no family tree. Plus: Cato. The Brutus plotline. Servilia gets toned down a bit. Minus: Senatorial debates get glossed over, as does a lot of the political maneuvering. Summary: There's a break in style from the previous books, and it's not for the better. Still interesting but not up to the old standards.
Also in the Masters of Rome series