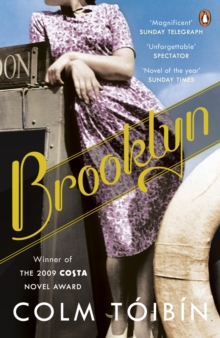 Description
Colm Toibin's Brooklyn is a devastating story of love, loss and one woman's terrible choice between duty and personal freedom.
It is Ireland in the early 1950s and for Eilis Lacey, as for so many young Irish girls, opportunities are scarce.
So when her sister arranges for her to emigrate to New York, Eilis knows she must go, leaving behind her family and her home for the first time.Arriving in a crowded lodging house in Brooklyn, Eilis can only be reminded of what she has sacrificed.
She is far from home - and homesick. And just as she takes tentative steps towards friendship, and perhaps something more, Eilis receives news which sends her back to Ireland.
There she will be confronted by a terrible dilemma - a devastating choice between duty and one great love.'With this elating and humane novel, Colm Toibin has produced a masterwork' Sunday Times 'The most compelling and moving portrait of a young woman I have read in a long time' Zoe Heller Guardian, Books of the Year 'A work of such skill, understatement and sly jewelled merriment could haunt your life' Ali Smith TLS, Books of the Year
Information
Format: Paperback
Pages: 272 pages
Publisher: Penguin Books Ltd
Publication Date: 01/02/2010
ISBN: 9780141041742
Other Formats
Paperback from £6.65
eAudiobook MP3 from £15.11
Free Home Delivery
on all orders
Pick up orders
from local bookshops
Reviews
Showing 1 - 4 of 4 reviews.
Review by ljbwell
16/06/2015
Brooklyn popped up on several best of 2009 lists from authors and critics alike. I see why.Brooklyn starts in 1950s Ireland. It is post-war, and jobs are hard to come by. Eilis Lacey, whose father died and left behind her mother, an older sister, and 3 brothers, has a great head for numbers and wishes to become a bookkeeper. When her older sister, Rose, arranges for Eilis to live and work in Brooklyn, NY, Eilis realizes she is obliged to make the move to help out her family. Once there, she goes through homesickness, witnesses cultural changes coming (for example: the store where she works decides to allow blacks to shop there, and makes it clear to all employees that everyone is welcome; she is one of the few females - and the only Irish - in her night classes at Brooklyn College, where she studies to get a bookkeeping certificate; she experiences the new flavors of Italian food), and begins to find her place in the immigrant salad bowl that was - and is - NY.While I have chosen to be an expat (two times over now) and have learned to embrace the bumps that go with each upheaval, Eilis has this decision thrust upon her. As such, she spends much of the book examining her experiences as an outsider, seeing things happening around her and to her, but at the same time maintaining a distance from it all. She accepts things dispassionately, as if this, too, must be what is expected of her. And yet, the time comes when she has to make a decision.We get a brief glimpse of the disconnect one can feel, not just the physical distance of being in a new country/place, but an emotional distance - that feeling that your life is happening to you. We see that decisions can be difficult, emotions complicated - there's no clear right or wrong, no clear good guy or bad guy. Home and family, too, are comfortable, familiar, needy and stifling all at the same time. Maybe not much happens; and yet there is so much there.
Review by Mumineurope
16/06/2015
Eilis and Tony, then Jim back in Ireland. Great story and characters
Review by etxgardener
16/06/2015
Ireland's biggest export has always been her people and in this story we follow a young Irish woman who emigrates to Brooklyn in the 1950's. Settling in a boarding house, she is lonely and homesick, but gradually starts making friends and, finally begins a relationship with a young man that starts to turn to love.But just when it seems like happiness is at hand, she is called home with a family emergency. Once back in Ireland, the closed-in society starts to crowd in on her like a shroud. Her struggle between tradition, duty and the lure of a more modern, free society makes for fascinating reading.
Review by dmsteyn
16/06/2015
This novel, about a young Irishwoman's experiences in her birth country and the deracination she experiences when she moves to America, touched a deep chord in me. I found the observations on home-sickness and sadness beautifully measured and assured. They reminded me of my own first experiences away from home, and it is this resonant quality of Tóibín's writing that I enjoyed most. The story is not remarkable in any way; there are no great plot twists, nor does Tóibín bother with any over-the-top scenes. In less assured hands, it could all seem very pedestrian, but Tóibín's mastery is in making the ordinary seem extraordinary, taking a common little life and infusing it with dignity and interest.The heroine, Eilis, does not seem remarkable at all, at least initially, but through her experiences of pain and love, we come to see her as a fully rounded personality, with her own hopes and aspirations. One could easily dismiss her story as inconsequential, but that would be foolish. It is, after all, the little, seemingly inconsequential events that make up a life. And Eilis does experience monumental events in her own life, even if they do not seem so monumental to an indifferent observer.Tóibín handles Eilis's burgeoning character expertly, especially when he describes her return to Ireland after a tragedy at home. The way he handles this tragedy, and its effects on Eilis and her family, together with a secret that Eilis has kept from her family, is truly masterly. He sets up tension without resorting to any outlandish tricks, making Eilis's situation seem all the more universal. The book left me feeling sad at the seeming determinism of our lives, but also hopeful that we do have the ability to choose, whether for good or ill. That may seem somewhat trite, but any fiction that makes one consider your own choices in life seems, to me, to be doing something right.I found Tóibín's unadorned style refreshing, but a bit anaemic at times. That sounds a bit contradictory, but what I am trying to say is that I enjoyed the purity of the prose, but I wanted a bit more red meat. I tend to prefer a more descriptive style of writing – not necessarily purple patches, but cross-hatched colouring. Perhaps the argument could be made that this style fits the nature of the story. Or perhaps this is just the way Tóibín always writes. Either way, this is not really a criticism, just a preference. On the whole, a beautifully understated book, which I recommended for anyone who likes thoughtful literature. I will definitely be reading more of Colm Tóibín.