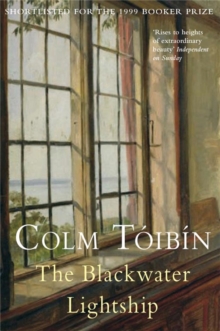 The Blackwater Lightship
Paperback
Description
Set in Ireland in the 1990s, Colm Toibin's The Blackwater Lightship tells the story of the Devereux family.
Dora Devereux, her daughter Lily and her granddaughter Helen - have come together after years of strife and reached an uneasy truce.
Helen's adored brother Declan is dying. Two friends join him and the women in a crumbling old house by the sea, where the six of them, from different generations and with different beliefs, must listen and come to terms with one another.
Information
Format: Paperback
Pages: 288 pages
Publisher: Pan Macmillan
Publication Date: 14/04/2000
ISBN: 9780330389860
Free Home Delivery
on all orders
Pick up orders
from local bookshops
Reviews
Showing 1 - 5 of 5 reviews.
Review by dylanwolf
16/06/2015
Declan, dying of AIDS, returns to his grandmother's house at Cush on the isolated wild coast of Ireland. The book is narrated by his sister Helen who organises family and friends to nurse Declan through his last days. It is clear that Declan is more intimate with his friends than his family and the priorities of these two separate factions of Declan's life are symbolised by the two local beacons - the Tuskar lighthouse and the discontinued Blackwater Lightship of the title. A closed in book where the six characters interact with their differing views on Declan's sexuality and terminal illness. A melancholy read for melancholy thoughts.
Review by MelmoththeLost
16/06/2015
Intense and claustrophobic, the novel focuses on three generations of women and the bitterness they have harboured for one another over decades. Faced with the impending AIDS death of Declan, the brother of the youngest of them, they are forced to not only share space and come to terms with each other and with the past, but also to deal with the fact of Declan's gayness and with the friends who stand by him.This is a deceptively easy read. Toibin's prose is sparse and clear and has a lyrical beauty which suits the story and its atmosphere beautifully but which doesn't overwhelm the relationships between his characters or intrude upon their self-explorations and coming to terms with each other.
Review by MiserableLibrarian
16/06/2015
Helen, her mother, and her grandmother, come together after years of estrangement to care for her dying brother. This is the story of family relationships, communication, and the need to find meaning in a sometimes-seemingly random world. The writing is good, in this the author's fourth book.
Review by lmichet
16/06/2015
Did not enjoy this very much at all. It's a patchy, unfocused work, thick with uninteresting family crises and bitter, unpleasant, irritating characters. The resolution isn't strong enough to make up for the pages of uninteresting guff you have to wade through to get there. The one thing this book could have had that would have made it interesting-- more on what it was like to be gay in Ireland in the later decades of the 20th century-- was simply not there. There were two chapters where two men told thier stories, but it was a bit thin, and left me wondering why Colm Toibin hadn't fleshed that out more.Worst of all, the main character, Helen, is one of those 'sensitive modern woman'-people who I am now beginning to recognize as a character archetype I hadn't known about before I started reading all of this contemporary fiction. She's one of those successful ladies, a leader in the workplace, who also has a gorgeous little family and a perfect life, but whose inner metal space is shot through with poorly-explained self-doubts and neuroses. We see very few of her thoughts, particularly when she's in company. She could do with being a bit more unique. But Toibin is relying on his readers to say "oh, I know people like that," and fill in the blanks for themselves. But because most of the books I read are not about sensitive modern women, I don't have the literary background to fill these details in for myself, and the archetype coes across to me as just what it is-- an irritating stereotype. I find these characters highly annoying. Give us some people with character, for crying out loud! I'm sick of sad broken silent ladies. I'm sick of books about painfully normal 30-year-old ladies, basically. If she had some wit to her, some kind of insight, it would be a joy to read about her, but she has none, and she's depressing. Male writers make their modern female heroes so god-damned boring and typical these days, and I have no idea why.I have no idea whether Toibin's written anything more interesting than this, but this is pretty dull, and I wouldn't waste my time on it.
Review by karensaville
16/06/2015
A young man is dying of AIDS and he invites his sister, two of his friends and his mother and grandmother to spend his final weeks in his grandmothers house by the sea. His sister has been estranged from her mother and grandmother and this enforced time together helps to rebuild their relationships. An interesting story with characters from several generations and walks of life thrown together at a sad time.