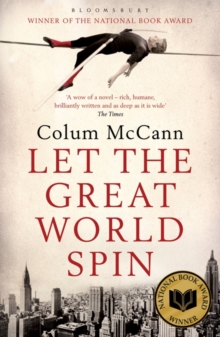 Let the Great World Spin
Paperback
Description
It's New York, August 1974: a man is walking in the sky.
Between the newly built Twin Towers, the man twirls through the air.
Far below, the lives of complete strangers spin towards each other: Corrigan, a radical Irish monk working in the Bronx; Claire, a delicate Upper East Side housewife reeling from the death of her son; Lara, a drug-addled young artist; Gloria, solid and proud despite decades of hardship; Tillie, a hooker who used to dream of a better life; and Jazzlyn, her beautiful daughter raised on promises that reach beyond the skyline of New York.
In the shadow of one reckless and beautiful act, these disparate lives will collide, and be transformed for ever.
Information
Format: Paperback
Pages: 368 pages
Publisher: Bloomsbury Publishing PLC
Publication Date: 05/07/2010
ISBN: 9781408801185
Free Home Delivery
on all orders
Pick up orders
from local bookshops
Reviews
Showing 1 - 4 of 4 reviews.
Review by celerydog
16/06/2015
Serendipitously read whilst suffering from a balance disorder! Fabulous prose, loved the structure, the characters and the use of plot to deliver the main themes.
Review by Dalan
16/06/2015
Only just a novel by the skin of its teeth, this collection of loosely related short stories failed to convince... Character roll-call ticking the right boxes as neatly as that Glee thing on telly, and the writing not as good as the Glee single's singing
Review by lesleynicol
16/06/2015
Yes," the characters did seem to walk off the page" as another reviewer wrote. I thoroughly enjoyed the interlocking stories and the beautiful writing. I've resolved to read more of his books.
Review by CarolynSchroeder
16/06/2015
With such mixed reviews, I was a little reluctant to pick this book up, but so glad I did. It is now one of my new favorites (of all times). I think I just resonated with McCann's writing style and journey into the hearts and minds of characters probably very unlike himself. I don't think it always succeeds, I mean, sometimes I felt like he was guessing about things (life as a prostitute in 1973, for instance). But that said, he handles his characters with such reverence and respect, it was hard not to like the way he did it. I loved the author's choices on surprising compositions of his characters, like the obese African-American woman Gloria, who loves opera at the Met, and much to her chagrin, time and time again everyone assumes she is a "Southern church lady" (she is no fan of the church); or Corrigan, who everyone first assumes in a strung out Irish drunk, but in fact, is a struggling monk and helper to all people. It is these unlikely insights into humanity that makes this novel such a joy to read. Time and time again, despite struggle, there are little glimpses of what makes us all shine, and this world a beautiful place. So even amidst death and war (Vietnam), there is hope. But mostly, I just sank deeply into the world McCann created through these very different characters, and a time and place I just only vaguely remember (I was a small kid then); and I loved the structure, loosely linked stories, and how the characters came together in small but important ways. This is my favorite novel in a long time. Maybe not for everyone, but I sure loved it and highly recommend it.