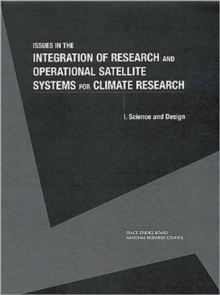 Issues in the Integration of Research and Operational Satellite Systems for Climate Research : Science and Design Pt. 1
Paperback
Description
Currently, the Departments of Defense (DOD) and Commerce (DOC) acquire and operate separate polarorbiting environmental satellite systems that collect data needed for military and civil weather forecasting.
The National Performance Review (NPR) and subsequent Presidential Decision Directive (PDD), directed the DOD (Air Force) and the DOC (National Oceanic and Atmospheric Administration, NOAA) to establish a converged national weather satellite program that would meet U.S. civil and national security requirements and fulfill international obligations.
NASA's Earth Observing System (EOS), and potentially other NASA programs, were included in the converged program to provide new remote sensing and spacecraft technologies that could improve the operational capabilities of the converged system.
The program that followed, called the National Polar-orbiting Operational Environmental Satellite System (NPOESS), combined the follow-on to the DOD's Defense Meteorological Satellite Program and the DOC's Polar-orbiting Operational Environmental Satellite (POES) program. The tri-agency Integrated Program Office (IPO) for NPOESS was subsequently established to manage the acquisition and operations of the converged satellite.
Issues in the Integration of Research and Operational Satellite Systems for Climate Research analyzes issues related to the integration of EOS and NPOESS, especially as they affect research and monitoring activities related to Earth's climate and whether it is changing.
Information
Format:Paperback
Pages:152 pages
Publisher:National Academies Press
Publication Date:08/09/2000
Category:
ISBN:9780309076579
Also by Committee on Earth Studies | View all