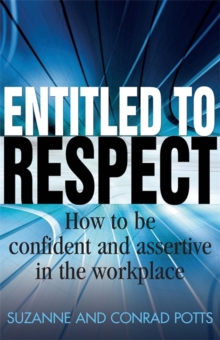 Entitled To Respect : How to be Confident and Assertive in the Workplace
Paperback
Description
This book will restore your self esteem and help you to command the respect to which you're entitled at work.
It will provide you with practical tools that you can put into use immediately, enabling you to: - Be valued for who you are - Ask for what you're entitled to - Say 'no' when you have a right to do so - Have your opinions & ideas respected and heard - Stand up for yourself - Handle difficult situations calmly and successfullyContents: Introduction; PART 1: THE TOOLBOX; 1.
Behavioural flexibility; 2.What is assertion?; 3. Our verbal behaviour; 4. Non-verbal behaviour; 5.Visualisation; 6. Self-talk; 7. Rights and personal permission; 8. Beliefs; 9. Win:Win outcomes; 10. Saying noA"; 11. Meeting behaviours; PART 2: WORK SITUATIONS; 12. Handling aggression; 13. Productive appraisals; 14. Managing your boss; 15. Co-operative colleagues; 16. Healthy customer relations; 17. Fair disciplinary interviews; 18. Successful job interviews; 19. Contributing to meetings; 20. Asking for a pay rise; 21. Presentations to be proud of; 22. Assertive selling; 23. Handling senior managers; 24. Managing your staff; 25. Reliable suppliers; 26. Working with volunteers; 27. Further help needed?; Index.
Free Home Delivery
on all orders
Pick up orders
from local bookshops