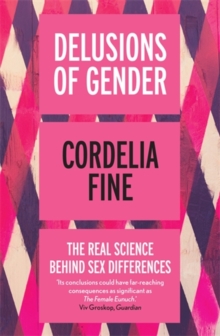 Delusions of Gender : The Real Science Behind Sex Differences
Paperback
Description
`Fun, droll yet deeply serious.'New Scientist`A brilliant feminist critic of theneurosciences ...
Read her, enjoy and learn.'Hilary Rose, THES`A witty and meticulously researchedexpose of the sloppy studies that pass for scientificevidence in so many of today's bestselling bookson sex differences.'Carol Tavris, TLSGender inequalities are increasingly defended by citing hard-wired differences between the male andfemale brain.
That's why, we're told, there are so fewwomen in science, so few men in the laundry room -different brains are just suited to different things. With sparkling wit and humour, Cordelia Fine attacksthis `neurosexism', revealing the mind's remarkableplasticity, the substantial influence of culture on identity,and the malleability of what we consider to be`hardwired' difference.
This modern classic showsthe surprising extent to which boys and girls, men andwomen are made - not born.
Information
Format: Paperback
Pages: 368 pages
Publisher: Icon Books Ltd
Publication Date: 01/02/2011
Category: Gender studies, gender groups
ISBN: 9781848312203
Free Home Delivery
on all orders
Pick up orders
from local bookshops
Reviews
Showing 1 - 1 of 1 reviews.
It's a pity that I always go into books like this with a mopy teenagery disposition, expecting a slog of a read where the information leaks out of your nose as it penetrates your brain, because this turned out to be not only extremely interesting, but also immensely enjoyable. The author has a great sense of humour in approaching some out-dated (and re-enforced even today) views on the biological hardwiring of men and women. <br/><br/>There's not a lot in here that shocks or surprises, but it did make me think at length about the impact social stereotyping has on gendering men and women. It reminded me of something in <I>Vindication of the Rights of Women</I> where Wollstencroft talked about the false education of women constructed to suppress their natural attributes in favour of teaching them to flatter the desires of men (like, I dunno, how to sew them a posh collar or su'ink). We may not have that degree of false education these days, but there's still a lot of subconscious (and intentional) prodding of girls towards girliness (and boys away from Barbie dolls).<br/><br/>So, yes, it made me think about a lot of stuff to which I sadly don't give enough consideration. What with all the baking and sewing dresses… <br/>