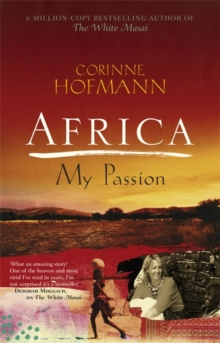 Africa, My Passion
Paperback / softback
Description
In an exquisite personal pilgrimage, Corinne Hofmann delves into the slums of Nairobi to uncover the heart-warming and heart-breaking stories of unforgettable people and places, then treks 500 miles across the Namibian desert to discover the lives of the nomadic Himba people.
Joined by her half-Kenyan daughter, Napirai, they travel to Nairobi together for the first time to discover Napirai s roots and finally meet her father and half-siblings.
Africa, My Passion is a poignant, touching and exciting story about one woman's love affair with a unique man, which led to a lifelong obsession with Africa.
Moving, vividly recounted, eye-opening and, above all, filled with passionate hope and unparalleled detail, this is an extraordinary sequel to a bestselling series of memoirs.
Information
Format: Paperback / softback
Pages: 210 pages
Publisher: Arcadia Books
Publication Date: 31/10/2012
Category: Memoirs
ISBN: 9781908129451
Also by Corinne Hofmann