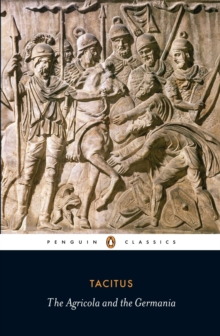 Agricola and Germania
Paperback
Description
The Agricola is both a portrait of Julius Agricola - the most famous governor of Roman Britain and Tacitus' well-loved and respected father-in-law - and the first detailed account of Britain that has come down to us.
It offers fascinating descriptions of the geography, climate and peoples of the country, and a succinct account of the early stages of the Roman occupation, nearly fatally undermined by Boudicca's revolt in AD 61 but consolidated by campaigns that took Agricola as far as Anglesey and northern Scotland.
The warlike German tribes are the focus of Tacitus' attention in the Germania, which, like the Agricola, often compares the behaviour of 'barbarian' peoples favourably with the decadence and corruption of Imperial Rome.
Information
Format: Paperback
Pages: 176 pages
Publisher: Penguin Books Ltd
Publication Date: 07/01/2010
Category: British & Irish history
ISBN: 9780140455403
Other Formats
Paperback / softback from £13.59
Hardback from £16.95
Paperback from £17.49
Free Home Delivery
on all orders
Pick up orders
from local bookshops
Reviews
Showing 1 - 2 of 2 reviews.
Review by isabelx
16/06/2015
Britain yields gold, silver, and other metals, to make it worth conquering. Its seas, too, produce pearls, but they are of a dark, bluish-grey colour. Some think that the natives are unskilful in gathering them; for whereas in the Indian Ocean the oysters are torn alive and breathing from the rocks, in Britain they are collected as the sea throws them up. I find it easier to believe that the pearls are of inferior quality than that people miss a chance of making a larger profit.In "The Agricola", Tacitus covers the life and career of his father-in-law, Gnaeus Julius Agricola, who was Governor of Britain between 78 and 84 A.D. In "The Germania" he is writing about the character and customs of the germanic tribes living north of the frontier of the Roman Empire.This Penguin Classics edition includes an interesting introduction, but the maps included could have been bigger; the names of the tribes are so small and close together that it is very hard to find the one you are looking for.
Review by janerawoof
16/06/2015
I have finished <b>Agricola</b>. Translation has given no problems: easy to understand. This was a short biography of G. Julius Agricola's early private and public life, army, and rise through the cursus honorum. Agricola is pictured as quite a paragon, all through Tacitus' biography. Of course, Tacitus was his son-in-law and he wrote it as a tribute. I felt, also, genuine filial affection throughout. Short history of Britannia and Britons followed. In the eighth year of Agricola's office as governor of Britannia, a large-scale battle was fought at Mons Graupius [85 AD] between Romans and Caledonians, with motivating speeches by both the British leader of the Caledonian Confederacy, Galgacus, and by Agricola beforehand. Marvelous description of the final battle. Agricola's life post-Britain, and his death. He escaped the most horrendous years of Domitian's rule. I detected a note of an envious "Lucky man!" in Tacitus if I read between the lines. I read the online version from Fordham University.Tacitus' <b>Germania</b> is basically a short ethnographic treatise on Germania and her various tribes. Touched upon are: origin of the German peoples; their appearance, including the distinctively topknotted Suevians; customs and culture of each tribe, in general and individually. Tacitus is very impressed with their marriage customs and lack of adultery, as well as their adherence to generous hospitality. He does deplore what he sees as their sloth, laziness, and their love of war to take by force what they want instead of working for it. The Gutenberg version in the Gordon translation was to the point and easy to follow.