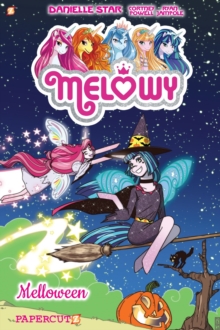 Melowy #5 "Meloween" HC : Meloween
Book
Description
Friendship is always an adventure when you're a unicorn attending school inthe sky!It's that time of year, when all of Destiny is decorated fromwing to hoof in spider webs, ghosts, pumpkins, and pegasus witches onbroomsticks...All Souls Night is here!
All the Melowies dress up for themasquerade ball celebration and spooky stories are told of ancient times passed,when good and evil battled for control of Aura.
This year, the legendary andpriceless crown of Queen Alexandria is present for the festivities...until itmysteriously vanishes!
Cora, Cleo, Maya, Selena, and Electra must search for thecrown as the future of all Destiny hangs in the balance!
Information
Format: Book
Pages: 64 pages
Publisher: Papercutz
Publication Date: 28/07/2020
Category: Fantasy
ISBN: 9781545804865