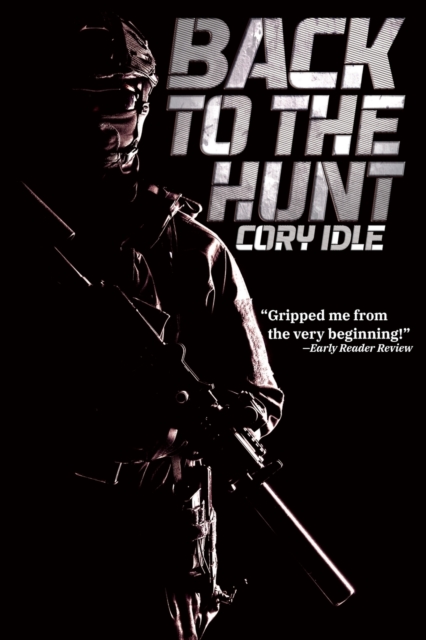 Back to the Hunt : A Military Sci-fi Thriller Novel
Paperback / softback
Description
Ex-soldier Craig is working as mall security after being discharged from the military... until he's called back. Now he needs to find and extract a dangerous bioweapon, save the townspeople from a rebel military uprising, and get out alive.
----
"Exciting from beginning to end!" -Early Reader Review
"A thrilling read." -Early Reader Review
"Gripped me from the very beginning with authentic characters and engaging language." -Early Reader Review
After a mission goes wrong, Craig and the team he leads are sentenced to jail time, but evading the punishment, Craig gets off easy and trades his helmet for a name badge. Craig, an ex-soldier, is working as mall security after being discharged from the military, losing not only his brothers in arms but also his spirit. His new mundane life lacks the previous thrill his previous life had. Looking to be a hero and find purpose, Craig challenges the one person in town that no one dares go against, Jimmy Spaski.
Shielded by the law, his father, and the town, Jimmy gets away with anything and everything. Taking on this challenge motivates Craig to do the one thing he thought he'd never do after he receives a mysterious call from General Anderson-a call that pushed him to return to the organization that exiled him two years prior: the United States Army.
Shortly before Craig accepts the call from General Anderson, a military transport rips apart above the small rural town of Helm's Hamlet, Iowa, resulting in a biological weapon being lost in the small town. With the plane ripping apart above, the town below takes refuge, but sadly not in time. The biological contamination had been released in the city after the mysterious crash. After the contaminant affects the city, only a lucky few survive. This new group within Helm's Hamlet takes it upon themselves to re-establish society under their new authoritative rule. With a military uprising, the city has new leadership, and it isn't the US Army.
Because of the lost biological weapon, Craig is tasked with leading a team into Helm's Hamlet to search for survivors, the biological weapon, and the dark secrets this town now holds. Craig and his new team infiltrate the town, but things don't go as planned. Violent uprisings were something that Craig was used to, but this was something else entirely.
Strings are pulled so that the very brothers Craig lost eighteen months ago after being discharged are present again. The terms of this assignment are simple: find and extract the bioweapon, save the townspeople, if any, and get out alive. If a success, Craig and his former brothers-in-arms will be free men. If they fail, a prison cell awaits them. Will Craig and his team find the lost biological weapon in time before more innocent people are killed? Even if they find the weapon and crash, how can they be sure they'll succeed? With enemies around every corner, will Craig and his team find a way to save Helm's Hamlet and America?
"With government conspiracies that date by decades, spooky creatures, and a town with people who just won't do the right thing... Craig Eitel is the hero we all need." -Alex Williams, editor
Information
Format:Paperback / softback
Pages:178 pages
Publisher:5310 Publishing
Publication Date:07/03/2023
Category:
ISBN:9781990158926
Information
Format:Paperback / softback
Pages:178 pages
Publisher:5310 Publishing
Publication Date:07/03/2023
Category:
ISBN:9781990158926