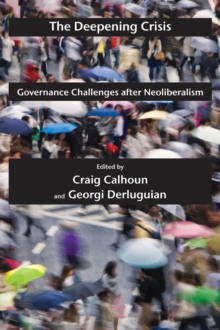 The Deepening Crisis : Governance Challenges after Neoliberalism
Paperback / softback
Description
Response to financial meltdown is entangled with basic challenges to global governance.
Environment, global security and ethnicity and nationalism are all global issues today.
Focusing on the political and social dimensions of the crisis, contributors examine changes in relationships between the world's richer and poorer countries, efforts to strengthen global institutions, and difficulties facing states trying to create stability for their citizens. Contributors include: William Barnes, Rogers Brubaker, Vincent Della Sala, Nils Gilman, David Held, Mary Kaldor, Adrian Pabst, Ravi Sundaram, Vadim Volkov, Michael Watts, and Kevin Young.
The Deepening Crisis is the second part of a trilogy comprised of the first three books in the Possible Future series.
Volume 1: Business as UsualVolume 2: The Deepening CrisisVolume 3: AftermathThe three volumes are linked by a common introduction and can be purchased individually or as a set.
Information
Format: Paperback / softback
Pages: 300 pages
Publisher: New York University Press
Publication Date: 01/05/2011
Category: Financial crises & disasters
ISBN: 9780814772812
Also in the Possible Futures series | View all