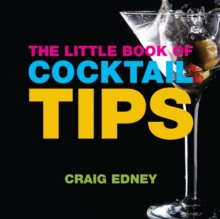 The Little Book of Cocktail Tips
Paperback / softback
Description
A heady mix of fantastic advice for those who wish to learn, create, and entertain with wonderful drink ideas A measured blend of 50 pointers, including recipes for the perfect Margarita, Martini and Mojito, essential gear for how to set up a home bar, and the shoulds and should-nots of shaking.
Drinkers will never get in a muddle again with this intoxicating little book as a guide. The Little Books of Tips series is a collection of books, each 50 tips in size, delivering wisdom and advice on a whole range of popular subjects covering food, gardening, craft, sports and hobbies.
Over quarter of a million copies sold across the series.
Information
Format: Paperback / softback
Publisher: Absolute Press
Publication Date: 01/09/2009
Category: Spirits & cocktails
ISBN: 9781904573975