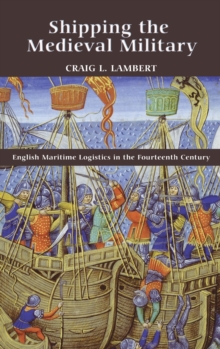 Shipping the Medieval Military - English Maritime Logistics in the Fourteenth Century
Hardback
Description
During the fourteenth century England was scarred by famine, plague and warfare.
Through such disasters, however, emerged great feats of human endurance.
Not only did the English population recover from starvation and disease but thousands of the kingdom's subjects went on to defeat the Scots and the French in several notable battles.
Victories such as Halidon Hill, Neville's Cross, Crecy and Poitiers not only helped to recover the pride of the English chivalrous class but also secured the reputation of Edward III and the Black Prince. Yet what has been underemphasized in this historical narrative is the role played by men of more humble origins, none more so than the medieval mariner.
This is unfortunate because during the fourteenth century the manpower and ships provided by the English merchant fleet underpinned every military expedition.
The aim of this book is to address this gap. Its fresh approach to the sources allows the enormous contribution of the English merchant fleet to the wars conducted by Edward II and Edward III to be revealed; the author also explores the complex administrative process of raising a fleet and provides career profiles for many mariners, examining the familial relationships that existed in port communities and the shipping resources of English ports. Craig L. Lambert is Research Assistant at the University of Hull.
Information
Format: Hardback
Pages: 264 pages
Publisher: Boydell & Brewer Ltd
Publication Date: 16/06/2011
Category: British & Irish history
ISBN: 9781843836544
Also by Craig L. Lambert