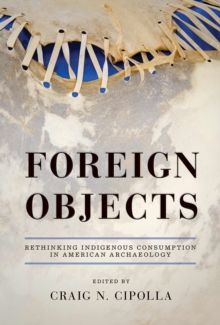 Foreign Objects : Rethinking Indigenous Consumption in American Archaeology
Hardback
Description
Brass tinklers and pendants. Owl effigies, copper kettles, crucifixes with blue glass stones.
What do they have in common? The answer spans thousands of years and a multitude of peoples and places, and reveals how people made sense of their world as they collected and used the objects they encountered. Foreign Objects demonstrates the breadth and vibrancy of contemporary archaeology.
Taking a broad set of archaeological cases from across the Americas, editor Craig N.
Cipolla and the volume contributors explore how indigenous communities have socialized foreign objects over time.
The book critiques the artificial divide between prehistory and history, studying instead the long-term indigenous histories of consumption, a term typically associated with capitalism and modern-world colonialism. The case studies range from "exotic" stone tools used millennia ago to nineteenth-century patent medicines made and marketed by an Indian doctress.
Foreign Objects focuses on how indigenous groups and foreign objects became entangled with one another in myriad ways.
The book explores how the framework of consumption can shed new light on trade, exchange, materiality, and cultural production. Contributors place foreign objects in the spotlight and offer a comparison of how this general class of material played a part in indigenous and colonial worlds.
Each chapter illustrates how notions of consumption fit into their place in time and also delves into how foreign objects related to ideas of the body and personhood, how people used them to participate in political and spiritual worlds, and how they presented new ways of enduring or resisting European colonialism and capitalism.
Foreign Objects is a critical look at consumption through the lens of indigenous knowledge and archaeological theory.
Information
Format:Hardback
Pages:304 pages, 40 black & white illustrations, 8 tables
Publisher:University of Arizona Press
Publication Date:28/02/2017
Category:
ISBN:9780816531912