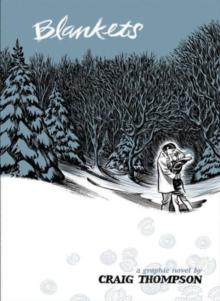 Description
Named one of Time's top 100 Best Young Adult Books of All Time! "...A rarity: a first-love story so well remembered and honest that it reminds you what falling in love feels like...achingly beautiful." (Time magazine).
A brand-new, hardcover edition, re-sized and with a new cover!
Wrapped in the landscape of a blustery Wisconsin winter, Blankets explores the sibling rivalry of two brothers growing up in the isolated country, and the budding romance of two coming-of-age lovers.
It is a tale of security and discovery, of playfulness and tragedy, of a fall from grace and the origins of faith.
A profound and utterly beautiful work from Craig Thompson.
At 592 pages, Blankets may well be the single largest graphic novel ever published without being serialized first.
Information
Format: Hardback
Pages: 592 pages, chiefly Illustrations
Publisher: Top Shelf Productions
Publication Date: 23/08/2011
ISBN: 9781603090964
Free Home Delivery
on all orders
Pick up orders
from local bookshops
Reviews
Showing 1 - 5 of 13 reviews.
Previous | Next
Review by mausergem
16/06/2015
This graphic novel is a coming of age story of the author narrated as himself in the first person. The story describes his home, his relationship with his parents and brother, his first love and his stuggle with his religion.This is my first graphic novel and I didn't know what to expect. I found both the illustrations and the story lacking in some aspects. I give it three stars just because of the fact that it is such a difficult thing to do.
Review by fremd
16/06/2015
Craig T.s art is so wonderful and soft.
Review by BenjaminHahn
16/06/2015
I had been eyeing this book for the past three years every time I went to the bookstore. With its alluring cover and excellent illustrations, it was hard to resist. But it looked so bulky and I had so many other graphic novels sitting at home waiting to be read. Finally this past November, I picked it up in its new hardcover format. I plowed through nearly 600 pages in one sitting. Being raised in a fundamentalist Christian household, I found many of the conflicts that Craig faced growing up to run parallel to my own childhood. While I was reading this, I would suddenly find myself staring at the ceiling thinking through a strange memory sparked by a new chapter in Blankets. Like the author, I was too curious about scripture interpretations and translations for my own good. Once given the chance to explore those deep questions in college as a religious studies minor, I too became quite skeptical of dogmatic faith and the mentality of evangelism. Thompson's portrayal of his journey was subtle but serious and meaningful. The romantic storyline is also quite real and sad as is his depiction of sibling relationships, especially in that type of household. His art style plays very well into the story and I spent a good deal of time just pondering a lot of the religious symbolism incorporated into many of the full page drawings. I highly recommend this for anyone seeking an 80's/90's coming of age story set in a truly unique American setting (the evangelical Midwest). Like any good graphic novel, the illustrations are essential to the story telling.
Review by clfisha
16/06/2015
Beautifully drawn and extremely well crafted autobiographically coming of age story. A tale of a young teenager struggling to find his path and identity, themes well trodden but in this case deftly and quietly done. The hard topics of fundamentalist religion, of abuse, of social isolation mixes with familiar experiences of first love, of confusion over life's future possibilities and personal faith and a burgeoning youthful confidence. It really is a touching and thoughtful graphic novel, that doesn't need to shout to be heard and I recommend it to lovers of coming of age tale, whether you are a fan of graphic novels or not.
Review by BrandonJBudd
16/06/2015
The narrative of this story seems to be one of isolation, alienation, and the move towards finding one's place in the world as well as the self. Numerous narrative strands weave together to form this overarching theme. The most memorable and most prominent appears to be the story of the author's first love.His description of this puppy-dog love is admirable... but I wonder if he realizes how poor his character comes off. Our protagonist heaps a lot on his love interest. She becomes a "muse" for him. While I certainly can appreciate how the teenage soul elevates a first-love, I couldn't help but wonder if Mr. Thompson was in on the joke. Our protagonist tries to separate his love-interest from her friends, wants to be her all, seems miserable even when with her, and yet talks about running away with her.The eventual fall from love seems glossed over. But I suppose there's less to say about that. It's more rewarding to wax metaphysical about his ardent passions for a woman and "finding himself" than it is about the general malaise that appears to descend upon the protagonist. Fair enough.Ultimately, I found this narrative stand (while, again, memorable) the least interesting. Far more interesting for me was his struggles with religion and, most interestingly of all, the narrative of sexual abuse. This abuse is alluded to throughout the first half of the book, but then this theme drops off the radar in the second half. There seems to be no resolution. Even as the protagonist mends his relationship with his brother, there is no discussion as to this major shared experience. Nor does the protagonist satisfyingly resolve the sense of shame he initially seems to carry with him when he thinks he was unable to protect his brother. Further, I was so interested in hearing about how this sense of shame might coincide with his sense of religious piety and the self-shame he feels due to his carnal feelings towards his love interest.Why was this not addressed? Too close to the bone? Perhaps. But this is also a guy who depicts himself masturbating to a letter from his girlfriend. Perhaps this issue simply never resolved. Which, of course, has some interesting implications. Presumedly his brother has access to this graphic novel. If a conversation between the two of them hasn't occurred, I would imagine this would spark one.I suppose I'd recommend this book, but I'd do so with deep caveats. Teenage boys don't need any help placing their first loves on madonna pedestals. But what this book does, it does well. I just kind of wish it worked with some far more interesting themes more fully.