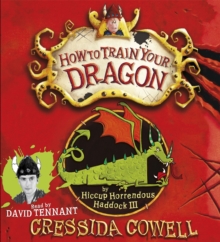 How To Train Your Dragon : Book 1
CD-Audio
Description
Listen to the books that inspired the How to Train Your Dragon films!
This book will be a hit with children and adults alike.THE STORY BEGINS in the first volume of Hiccup's How to Train Your Dragon memoirs...Hiccup Horrendous Haddock III was an awesome sword-fighter, a dragon-whisperer and the greatest Viking Hero who ever lived.
But it wasn't always like that.In fact, in the beginning, Hiccup Horrendous Haddock III was the most put upon Viking you'd ever seen.
Not loud enough to make himself heard at dinner with his father, Stoick the Vast; not hard enough to beat his chief rival, Snotlout, at Bashyball, the number one school sport and CERTAINLY not stupid enough to go into a cave full of dragons to find a pet...
It's time for Hiccup to learn how to be a Hero.How to Train Your Dragon is now a major DreamWorks franchise starring Gerard Butler, Cate Blanchett and Jonah Hill and the TV series, Riders of Berk, can be seen on CBeebies and Cartoon Network.
Information
Format: CD-Audio
Pages: 208 pages
Publisher: Hachette Children's Group
Publication Date: 01/02/2004
Category: General
ISBN: 9781840329698
Other Formats
Paperback from £6.05
EPUB from £3.49
Free Home Delivery
on all orders
Pick up orders
from local bookshops
Reviews
Showing 1 - 2 of 2 reviews.
Review by humouress
16/06/2015
It's a great books for kids; my 6 year old loved it (especially the accent I adopted for the dragons, and the phrases to teach them), and I thought the pencil illustrations were a nice touch, especially the page with feathers all over it, when the Heroes were dropping feather bombs. I read this to my children before we went to watch the film (which was rather different, but equally great). My 6 year old kept quoting dragon phrases in their funny accents afterward. He enjoyed the book so much, he wanted to get more in the series when he spotted them at the bookshop, and dragged me over to pore over them.The story is told as the reminiscences of Hiccup, who turns out to be the greatest Viking hero, but as a child, it looked unlikely that he would be any kind of a hero compared to the other brawny Viking teens - which was especially embarrassing, because he was the son of the chief. To prove they would be worthy Vikings, each generation had to capture a dragon, train it and then pass a test to demonstrate their control over it, which was usually by yelling at it. Hiccup, not being a good yeller, had to come up with other methods to prove he was worthy of being a Viking, and not be exiled from his tribe. This makes the other Vikings think he's even weirder - until his methods are unexpectedly put to the test, and come up trumps.
Review by A_Reader_of_Fictions
16/06/2015
As we all know, movies often aren't much like the books they're based on, and that's incredibly true here. Now, the setting's the same: Vikings, dragons, characters and all that. However, there are a couple of major differences, based even on what I remember from the movie I saw once about three years ago. When you think of How to Train Your Dragon, I bet your first thought is something along the lines of the cute dragon from the movie.Certainly, I did. Awkward boy befriends adorable dragon. Cuteness abounds. Everyone learns things. Not really how it goes down, though. The actual story is definitely tailored to a little boy audience, with gross jokes, battles and such. Also, Toothless is creepy as all get out. And green.No, seriously. Toothless is not remotely adorable. He's crude and gross, and purposely poops all over Hiccup's house. Also, he hates Hiccup for most of it, and Hiccup hates him, mostly because the Vikings actually use dragons as slaves after they DRAGONNAP them from their caves when they're babies. That's one of the tests to become a full member of the tribe. As is training the dragon to do what you say by yelling at it. Oh, AND Toothless is way smaller than in the movie. Hiccup can carry him around. If anything, Toothless reminded me of Gollum. Yeah.Basically, I kept expecting the story to end with a realization that dragons need to be treated more equally, considering that they're smart and have their own language and everything, but that didn't really happen. Like, at the end, I think they respect dragons a little more, but still plan to make the dragons do what they say. I just didn't really feel that much sympathy with the Vikings when the HUGE dragon arrives with plans to eat them, yanno?Also, just fyi, there was not a single female character in this story that I noticed. Not a one. Apparently the Vikings figured out a way to procreate with only men, or with dragons. Of course, I don't think that's true. Women are just so unimportant they're wholly unworthy of mention. Thanks, movie, for adding in a wholly not historically accurate female character who was in the same class as the boys. I mean, there are dragons, so are we really that big on historical accuracy?Much as I didn't like the story, because it's just totally not for me, there is one reason I rated this three stars and did like listening to it: David Tennant.WORTH IT. Oh, David Tennant. I love him as Doctor Who, of course, but now I got to hear him go full on Scottish, and I loved it. He's a delightful narrator, just as you would expect. He even did a voice that was rather reminiscent of Jeremy Irons for the giant, man-eating dragon. I just sort of tried to pay as little attention as possible to the story and to soak in the accents.I wish I could say that I liked this enough overall to want to continue with the rest of the audiobooks he narrated (which is six or seven of the series), but I don't. As much as I love David Tennant, I would have to buy each one from Audible, and that's just too much money for books I don't like. If my library had them, well, that would be another story.So, there you have it. Unless you're a huge David Tennant fan (why wouldn't you be?) or totally okay with the absence of women and treatment of the dragons, you'll probably want to skip this one.
Also in the How to Train Your Dragon series | View all