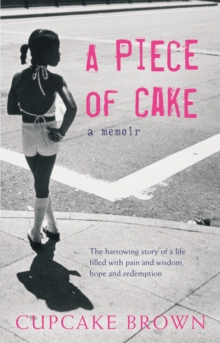 A Piece Of Cake
Paperback
Description
The No.1 Sunday Times BestsellerThis is the heart-wrenching true story of a girl named Cupcake and it begins when, aged eleven, she is orphaned and placed in the 'care' of sadistic foster parents.
But there comes a point in her preteen years - maybe it's the night she first tries to run away and is exposed to drugs, alcohol, and sex all at once - when Cupcake's story shifts from a tear-jerking tragedy to a dark, deeply disturbing journey through hell. Cupcake learned to survive by turning tricks, downing hard liquor and ingesting every drug she could find while hitchhiking up and down the California coast.
At just 16 she stumbled into the terrifying world of the gangsta, dealing drugs, hustling and only just surviving a drive-by shooting.
Ironically, it was Cupcake's rapid descent into the nightmare of crack cocaine addiction that finally saved her.
After one four-day crack binge she woke up behind a dumpster.
Half-dressed and half-dead, she finally realized she had to change her life or die on the streets - another trash-can addict, another sad statistic.
Astonishingly, Cupcake turned her life around and this is her brutally frank, startlingly funny story.
Unlike any memoir you will ever read, A Piece of Cake is a redemptive, gripping tale of a resilient spirit who took on the worst of contemporary urban life and survived it.
It is also the most genuinely affecting rollercoaster ride through hell and back that you will ever take.
Information
Format: Paperback
Pages: 544 pages
Publisher: Transworld Publishers Ltd
Publication Date: 01/10/2006
Category: Autobiography: general
ISBN: 9780553818178
Free Home Delivery
on all orders
Pick up orders
from local bookshops
Reviews
Showing 1 - 5 of 5 reviews.
Review by helensdatter
16/06/2015
This is one of those books about appalling childhoods that I usually avoid because they trouble me so much. The details of drug abuse are fascinating for someone from a sheltered background, and I was enthralled by her description of addiction - always able to excuse her behaviour. I longed for her to turn the corner, and of course she does eventually.
Review by jbarklow
16/06/2015
(180)Cupcake Brown's electrifying memoir is a detailed autobiography of her adolescent life, how she fell into a horrible pit of drugs, sex, foster parents, and gang-banging. It started out with the death of her mother, then as she started to grow older she was sent to many foster homes, running away to turn tricks, join a gang, do drugs, and eventually get addicted to smoking crack. As she turned 18, she started a series of jobs where almost 100% of the time she was at the job she was high off of something. When she realized that she finally needed some help, it was a long road through withdrawal and sobriety. She went through some abusive relationships, and pursued her dream of becoming a lawyer, the one thing she "understood".I wouldn't reccomend this book to the faint-hearted person, or anyone under the age of 16. It's a really good book though and it's really well-told, except Cupcake probably doesn't remember half of that part of her life, therefore there's probably more parts to the story than she told.
Review by MJC1978
16/06/2015
I don't always love memoirs, but A Piece of Cake is one of the best I've ever read. It's raw and honest, funny and sad, and best of all: inspiring. I lent this book to someone that was going through a personal struggle, and she found some of what she was looking for in Cupcake Brown's words. For someone to have gone through all she experienced and to be brave enough to put it all down on paper for the world to see...just amazing.
Review by mjspear
16/06/2015
Riveting memoir of growing up unsupervised and abused in greater LA. Cupcake Brown's life falls apart when her mother dies suddenly. She is thrown into the foster care system and subject to a physically, emotionally, and sexually abusive foster family. She runs away, is introduced to sex and drugs and is then returned to the same situation. Her family isn't much better... while living with a distant Aunt, she gets into gang banging and is an active member of The Crips where she steals, kills -- most of the time high. She is shot by a rival gang and while recovering decides to get out of the gang. More drug abuse, bad relationships (incl. an abusive marriage) and scamming, she finally enters a drug rehab center. Once clean and sober, Cupcake begins to rebuild her life and becomes a successful lawyer.The story is gripping and salacious and kept this reader hooked (no pun intended) ... much like rubber-necking at a bad car accident. Does all of the badness (told with a wee bit too much enthusiasm, methinks) make her redemption that much sweeter? The jury's out.
Review by Marlene-NL
16/06/2015
Finished this afternoon. I did enjoy the end of the book but I must say that this book was sometimes a choir to read. People say this is a fast read, guess not for me.<br/>In the middle of reading I got a bit sick of all the stories on dope and her aggressive behaviour. I do think it is an interesting read though and not only she manged to get clean but which is even harder she managed to change her personality. I applaud her for that. 7.5