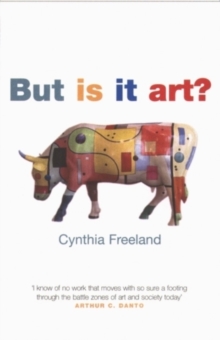 But is it Art? : An Introduction to Art Theory
Paperback
Description
In today's art world many strange, even shocking, things qualify as art.
In this book, Cynthia Freeland explains why innovation and controversy are valued in the arts, weaving together philosophy and art theory with many fascinating examples.
She discusses blood, beauty, culture, money, museums, sex, and politics, clarifying contemporary and historical accounts of the nature, function, and interpretation of the arts.
Freeland also propels us into the future by surveying cutting-edge web sites, along with the latest research on the brain's role in perceiving art.
This clear, provocative book engages with the big debates surrounding our responses to art and is an invaluable introduction to anyone interested in thinking about art.
Information
Format: Paperback
Pages: 254 pages, 8 pp. colour plates, 24 halftones
Publisher: Oxford University Press
Publication Date: 07/02/2002
Category: Theory of art
ISBN: 9780192853677
Free Home Delivery
on all orders
Pick up orders
from local bookshops
Reviews
Showing 1 - 2 of 2 reviews.
Review by EricaKline
16/06/2015
Good, funny, slightly shocking. Discusses theories of art, but doesn't endorse any particular theory.
Review by stillatim
16/06/2015
A very easy to read overview of a few art theories (bad on Kant; okay on Hume; good on feminism/ritual theory), and Freeland's chosen theory is a solid one as far as it goes. She has Dewey's idea that art is somehow metonymic of a 'culture' and can be understood cognitively as well as emotionally or aesthetically institutional art theory's point that art is just what a community says art is. <br/><br/>But she never deals with the obvious objection: institutional art theory can only exist in modern and post-modern contexts. This is difficult to express without self-contradiction, I apologize: if art isn't cut off from everyday life (e.g., stained glass windows are set in the context of prayer rather than a museum), it makes no sense to have an institutional art theory. Now consider the social and cultural requirements for a theory of this kind, and ask yourself if this is the kind of art theory you want. Maybe it is, but maybe we want a theory that's more aspirational. <br/><br/>For instance, I'm worried about the effect that institutional art theory has on the future production of art: it seems to damn us to endless cycles of critique and recuperation, of shocks that are shocking for about fifteen seconds before they get commodified by those who have the money to tell the rest of us what art might be (and that includes 'shocks' like performance art that supposedly resists commodification, but in much the same way that tie-died T-shirts resisted commodification, i.e., not much). In this situation, Dewey's art is metonymic of culture bit suggests very little about our culture other than the fact that it's decadent, unimaginative, backward looking and slightly pathetic. And I'm pretty sure there's more going on than that. <br/><br/>Anyway, this is a thought-provoking book that you can read after lunch and before afternoon tea.
Also by Cynthia A. Freeland