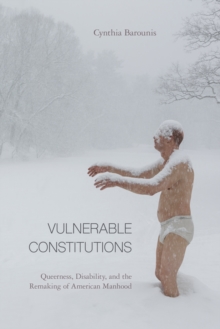 Vulnerable Constitutions : Queerness, Disability, and the Remaking of American Manhood
Hardback
Description
Amputation need not always signify castration; indeed, in Jack London's fiction, losing a limb becomes part of a process through which queerly gendered men become properly masculinized.
In her astute book, Vulnerable Constitutions, Cynthia Barounis explores the way American writers have fashioned alternative-even resistant-epistemologies of queerness, disability, and masculinity.
She seeks to understand the way perverse sexuality, physical damage, and bodily contamination have stimulated-rather than created a crisis for-masculine characters in twentieth- and early twenty-first-century literature. Barounis introduces the concept of "anti-prophylactic citizenship"-a mode of political belonging characterized by vulnerability, receptivity, and risk-to examine counternarratives of American masculinity.
Investigating the work of authors including London, William Faulkner, James Baldwin, and Eli Clare, she presents an evolving narrative of medicalized sexuality and anti-prophylactic masculinity.
Her literary readings interweave queer theory, disability studies, and the history of medicine to demonstrate how evolving scientific conversations around deviant genders and sexualities gave rise to a new model of national belonging-ultimately rewriting the story of American masculinity as a story of queer-crip rebellion.
Information
Format: Hardback
Pages: 282 pages
Publisher: Temple University Press,U.S.
Publication Date: 24/05/2019
Category: Literature: history & criticism
ISBN: 9781439915066
Other Formats
Paperback / softback from £26.89