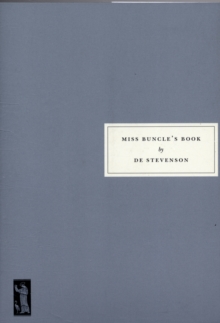 Miss Buncle's Book
Paperback
Information
Format: Paperback
Pages: 344 pages
Publisher: Persephone Books Ltd
Publication Date: 23/10/2008
Category: Classic fiction (pre c 1945)
ISBN: 9781903155714
Free Home Delivery
on all orders
Pick up orders
from local bookshops
Reviews
Showing 1 - 5 of 12 reviews.
Previous | Next
Review by LyzzyBee
16/06/2015
21 Jan 2009 - birthday present from MatthewA truly delicious book and I think it could be the next Miss Pettigrew. Miss Buncle is the quietest resident of a country village. Who would have dreamt that, to make a bit of money to make up for her sagging dividends, she could have written a wickedly accurate portrayal of her neighbours - both as they are and, in a fantasy section, as they would perhaps like to be. As the book hits the village, hackles are raised as well as eyebrows.... but also something strange starts to happen, as truth begins to echo fiction. Miss Buncle observes, backed up by her lovely publisher Mr Abbott and her marvel of a maid, Dorcas. Will anyone realise who the real author of the book, one "John Smith" is? And what will happen when they do?A lovely fairytale of a book; I particularly liked the more monstrous characters and the gentle satire of genteel novels of village life. Let's hope Persephone decide to publish some more of this author's work!
Review by Kasthu
16/06/2015
Miss Buncle is a pretty average, middle age woman living in an English country village. One day, she decides to write a novel about Silverstream, the village she lives in. The books is published, and instantly becomes a bestseller—with adverse effects in Silverstream, for its inhabitants are furious that someone has dared to write about—caricature—their lives.This is an extremely funny book, poking fun at the provincialism of the average English country village in the 1930s. The characters are a howl: Mrs. Featherstone Hogg, who of all the inhabitants of the village is the most enraged; Mr. Hathaway the vicar; Mrs. Greensleeves, the widow who only chases after the vicar because she thinks he has money; Miss King and Miss Pretty; Colonel Weatherhead, the town's confirmed bachelor; and others, including Doctor Walker and his wife, and Sally Carter, who seem to be the only people not offended by Disturber of the Peace (sounds like the title of a mystery, but no matter). Miss Buncle's descriptions of her characters are somewhat cruel, but truthful nonetheless. This novel is hysterically funny as well—I had stitches in my side by the time I got to the description of the film that Mr. Abbott and Miss Buncle go to see.It's claimed over and over again that Miss Buncle is a simple creature; but maybe she really does know what she's doing all along? I think she's a lot smarter than a lot of people, including Miss Buncle herself, give her credit for. As events unfold, and life imitates art, so to speak, it becomes clear that truth really is stranger than fiction.
Review by CatyM
16/06/2015
When Miss Buncle wrote her book, she wrote about what (or rather who) she knew. Everyone loved it. Except her neighbours.Absolutely superb. Plot, characters, phrasing, humour, the lot. Glorious. Splendid. Perfect.
Review by pb_29
16/06/2015
Love, love, love this book! A gentle comedy, it starts off by conjuring up picturesque visions of Miss Buncle's village, Silverstream. As written in previous reviews here, Miss Buncle is 'John Smith', the author of a controversial new book which has the residents of Silverstream up in arms. This book reminds me of those 'Russian dolls' sitting one within another. Dorothy Stevenson has written a book about a character who writes a book, in which the character she based on herself writes a book! Read it if you want something light-hearted and enjoyable - will hopefully leave you smiling and keen to seek out the next installment.
Review by TadAD
16/06/2015
Miss Barbara Buncle is having a hard time making ends meet when her income from dividends dries up. So, Miss Barbara Buncle decides to write a book to supplement her income and, knowing herself to be not terribly imaginative, she writes about what she knows best—the inhabitants of her small village. Miss Buncle may not be imaginative but it turns out she is extraordinarily talented at observation and, despite changed names, each of her characters is instantly recognizable to their neighbors. Once the book becomes a best-seller...well...as the character of John Walker puts it, "...there are breakers ahead."I found the story surprisingly engaging, full of endearing characters, light-hearted romance and a quiet humor throughout. It was a perfect book to read while traveling and, upon finishing, I immediately logged into the library's Web site and put a hold on another D. E. Stevenson.D. E. Stevenson (cousin once-removed to Robert Louis Stevenson) was a popular author in the middle of the 20th century, selling millions of copies in Great Britain and the United States, but her books largely fell out of print. Some are creeping back through small presses; if your library doesn't have an old copy, this one can be found from Persephone Books in the U.K.