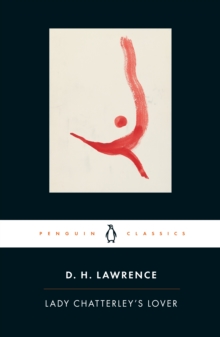 Lady Chatterley's Lover
Paperback
Description
Banned and vindicated, condemned and lauded, Lady Chatterley's Lover is D.H.
Lawrence's seminal novel of illicit passion and forbidden desire.
This Penguin Classics edition is edited with notes by Michael Squires and an introduction by Doris Lessing.Lady Constance Chatterley feels trapped in her sexless marriage to the Sir Clifford.
Paralysed in the First World War, Sir Clifford is unable to fulfil his wife emotionally or physically, and encourages her instead to have a liaison with a man of their own class.
But Connie is attracted instead to Oliver Mellors, her husband's gamekeeper, with whom she embarks on a passionate affair that brings new life to her stifled existence.
Can she find true love with Mellors, despite the vast gulf between their positions in society?
One of the most controversial novels in English literature, Lady Chatterley's Lover is an erotically charged and psychologically powerful depiction of adult relationships.In her introduction Doris Lessing discusses the influence of Lawrence's sexual politics, his relationship with his wife Frieda and his attitude towards the First World War.
Using the complete and restored text of the Cambridge edition, this volume includes a new chronology and further reading by Paul Poplawski and notes by Michael Squires.D.H.
Lawrence (1885-1930), novelist, storywriter, critic, poet and painter, was one of the greatest figures in 20th-century English literature.
Lawrence published Sons and Lovers in 1913, but The Rainbow, completed in 1915, was declared obscene and banned two months after first publication; and for three years he could not find a publisher for Women in Love, which he completed in 1917.
His last novel, Lady Chatterley's Lover, was published in 1928, but banned in England and America.If you enjoyed Lady Chatterley's Lover, you might like Gustave Flaubert's Madame Bovary, also available in Penguin Classics.'A brave and important book, passionate and wildly ambitious'Independent on Sunday'A masterpiece'Guardian
Information
Format: Paperback
Pages: 400 pages
Publisher: Penguin Books Ltd
Publication Date: 01/06/2006
ISBN: 9780141441498
Other Formats
Paperback from £2.50
Hardback from £6.85
CD-Audio from £28.55
EPUB from £0.99
Free Home Delivery
on all orders
Pick up orders
from local bookshops
Reviews
Showing 1 - 1 of 1 reviews.
Review by PilgrimJess
27/08/2015
"Sex and a cocktail: they both lasted about as long, had the same effect, and amounted to the same thing." I was drawn to this book,like many others,due to its notoriety more than anything else having thankfully not had to suffer studying this whilst at school and having read it am convinced that it is only this notoriety which has led to its endurance in the public psyche. Personally I found it rather dull and tedious.OK I get that this book is an outpouring from Lawrence's own unhappy upbringing and is a comment on the class system at the time but this was a class system which was gradually collapsing anyway or at least getting blurred due to the devastating effects of WWI when so many young men,and in particular members of the so called elite,had perished therefore felt that the book was not particularly revolutionary. Whilst the characters were well written I struggled to particularly like any of them,other than probably the exception of Mrs Bolton,all seemed extremely selfish,shallow and insecure in their own way only interested in their own needs and I really could not care what happened to any of them. In fact I felt a certain professional sympathy for Clifford,who despite being a cold fish in his personal life,did at least seem to be striving to find more uses for his coal and thus keep his workers in work and therefore earning.In the end Mellors' and Connie's relationship seems to boil down to being able to orgasm at the same time and I'm not sure that that is really conducive with a real long term relationship. Friendship and common interests are more important or perhaps I've just being doing it wrong all these years. Perhaps the quote at the top should have read champagne rather that cocktail because with that there is a little fizz at first but it soon goes flat rather like this book for me.