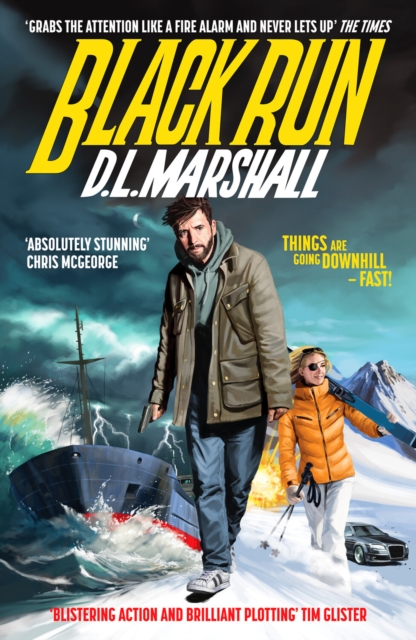 Black Run
Paperback / softback
Description
The epic second novel from the author of the acclaimed Anthrax Island.'Black Run grabs the attention like a fire alarm and never lets up' The TimesJohn Tyler has a new mission: capture a heavily protected target from a ski resort in the Alps and smuggle him back to the UK. The abduction was a success, and Tyler boards the Tiburon, a rusting freighter crewed by smugglers and mercenaries, for the last leg of his journey.
But his mark's security team is hot on his heels, and won't be deterred by an ocean. When Tyler's prisoner is found murdered inside a sealed hold on the ship, everyone on board becomes a suspect.
In the flickering light of the Tiburon's passageways, there's nowhere to run but everywhere to hide. Ronin meets Bond in this high-octane thriller with a locked-room mystery at its heart.
Perfect for fans of Alistair MacLean. Praise for Black Run 'Marshall... is very quickly establishing himself as the go-to in a new wave of thriller writers who emulate and better the grand masters of the genre' The Sun'Black Run is an absolutely stunning sequel to Anthrax Island that will delight action and mystery fans in equal measure' Chris McGeorge, author of Half-Past Tomorrow'A rip-roaring, rollicking rollercoaster of a read!
Another ingenious locked-room mystery unravelled amidst a series of high-velocity action sequences, the tension and drama expertly maintained throughout.
John Tyler is rapidly becoming one of my favourite action heroes' Russ Thomas, author of Nighthawking'I slalomed my way through Black Run like a downhill skier on acid.
Marshall has again combined an adrenaline-fuelled adventure yarn with an unfathomable locked-room mystery.
Packed with brutal action and bodies galore, Black Run is a treat for all the senses' Trevor Wood, author of One Way Street'Nobody fuses action and mystery with such punch, panache and verve as D.
L. Marshall, sending him straight to the genre's top table alongside Cussler and MacLean - with a flair for impossible enigmas echoing the best of Christie.
A simply outstanding, breakout novel' Rob Parker, author of Far from the Tree'Spectacular...
Brilliantly constructed action sequences so realistic it feels like bullets are whizzing past your head, smart as hell and expertly paced.
Tyler would snap Bond in two then send him back to the 20th century in a body bag...' Adam Simcox, author of The Dying Squad'Blistering action and brilliant plotting.
Black Run grabs you from the first page and never lets up' Tim Glister, author of Red Corona'Black Run is a brilliantly hectic thrill ride, razor-sharp and full of dark humour.
A joy to read' Doug Johnstone, author of The Big Chill'D.
L. Marshall just keeps getting better and better... This is an adrenaline-fuelled charge from start to finish, and John Tyler drives the action in a way that makes Bond look like an also-ran' Alison Belsham, author of The Tattoo Thief'One of the finest action thrillers in years' Robert Scragg, author of End of the Line
Information
Format:Paperback / softback
Pages:352 pages
Publisher:Canelo
Publication Date:07/09/2023
Category:
ISBN:9781804365892
Information
Format:Paperback / softback
Pages:352 pages
Publisher:Canelo
Publication Date:07/09/2023
Category:
ISBN:9781804365892
Also in the The John Tyler series series | View all