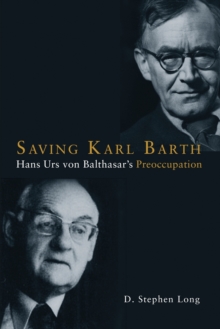 Saving Karl Barth : Hans Urs von Balthasar's Preoccupation
Paperback
Description
Challenging recent rejections of Hans Urs von Balthasar's groundbreaking study of Karl Barth's theology, Stephen Long argues that these interpreters are myopically impatient with the nuances of Balthasar's reading of Barth and fail to appreciate the longstanding theological friendship that perdured.
Even more, current readings threaten to repristinate the embattled divide hallmarking Protestant-Catholic relations prior to Vatican II.
Long contends against these contemporary trajectories in a substantial defense of Balthasar's theological preoccupation with Barth's thought.
This book offers one of the first full contextualizations of the friendship that developed between Balthasar and Barth, which lasted from the 1930s until Balthasar's death in the 1980s.
Re-evaluating Balthasar's theological work on Barth, the present volume provides a critical new reading of not only Balthasar's original volume but a wider account of the systematic engagement Balthasar carried on throughout his career.
Within this, a paradigm for fruitful, generous ecumenical dialogue emerges.
Free Home Delivery
on all orders
Pick up orders
from local bookshops