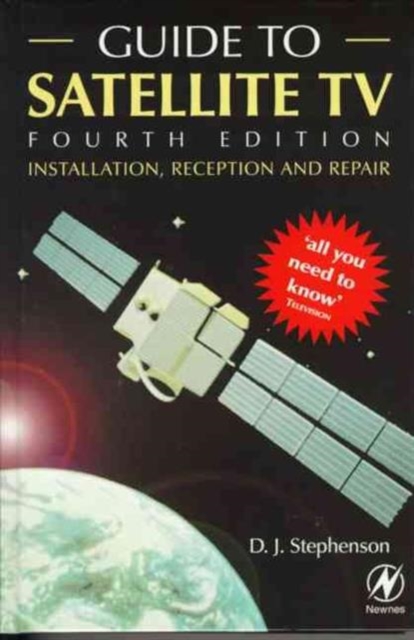 Guide to Satellite TV
Hardback
Description
Newnes Guide to Satellite TV is a practical guide, to the installation and servicing of satellite TV receiving equipment.
Derek Stephenson provides all the essential background information without weighing it down with excessive theory or mathematics, and covers the practice of installation and servicing with clear step-by-step guidance.
Essential data tables and numerous diagrams are included throughout. This book meets the practical need between theoretical textbook and simple installation guide.
The work includes topics such as digital TV, including MPEG-2, reception requirements, LNB requirements, digital link budget extensions, and a new section on squinting antennas. The Guide has always been known for the practical nature of the information it contains, such as the control of problems involving 'sparklies', trees, rain and vandals (solved by the now famous 'two drunks high' dish mounting rule).
The result is a text which provides the necessary information to specify, install and maintain both fixed and polar mount antenna systems along with small IF distribution systems for small blocks of flats and hotels. Derek Stephenson is a practising video/satellite TV repair engineer and the author of Satmaster Pro, a leading Windows-based software package for satellite TV.
Information
Format:Hardback
Pages:304 pages
Publisher:Elsevier Science & Technology
Publication Date:21/08/1997
Category:
ISBN:9780750634755
Information
Format:Hardback
Pages:304 pages
Publisher:Elsevier Science & Technology
Publication Date:21/08/1997
Category:
ISBN:9780750634755