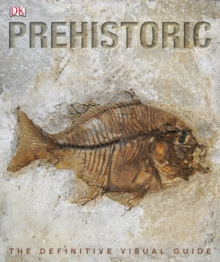 Description
Experience a story 3.8 billion years in the making, with this unparalleled visual guide to prehistoric lifeUnprecedented visual detail, comprehensive entries on hundreds of species and the latest research provides the whole picture of the creatures and plants that represent Earth's prehistoric life.Journey through the millennia and explore the rise and fall of successive organisms, devastating extinctions and the knife-edge progress of evolution.
Fantastic photographs and images present each species in exceptional clarity, including 3D CT scans that transform inert fossils into species that almost live and breath on the page.Discover a huge catalogue, profiling a vast and diverse array of plants, fungi, invertebrates, amphibians, birds, reptiles and mammals and discover how they have evolved through time.From giant dinosaurs to lesser-known species that faced a similar, cataclysmic demise, this is a fascinating and essential reference on prehistoric life for the whole family.
Information
Format: Hardback
Pages: 512 pages
Publisher: Dorling Kindersley Ltd
Publication Date: 01/10/2009
ISBN: 9781405337045
Free Home Delivery
on all orders
Pick up orders
from local bookshops
Reviews
Showing 1 - 1 of 1 reviews.
Review by AndreasJ
16/06/2015
A (mostly) gloriously illustrated guide to prehistoric life, with a cast of contributors ranging from Darren Naish (the author of Tetrapod Zoology, the web's best biology blog) to Jennifer Clack (early tetrapod expert). Despite the book's impressive heft, coverage is necessarily sketchy, but to the editors' credit it's less loopsided than in many similar popular works: <i>Prehistoric</i> makes a decent job at not letting palaeontological stars, such as the dinosaurs, completely crowd out less famous contemporaries, such as plants and fishes, which often are near enough forgotten in popular overviews after their Palaeozoic beginnings.Each geological period from the Cambrian (about half a billion years ago) gets a little introduction about geography and climate. These are good orientation material but I find myself wishing they were more thorough. The heart of the book, the short articles about hundreds of extinct life-forms, is long on detail and pretty pictures (with some exceptions - <i>Archaeopteryx</i> deserves much better than it gets here), but fairly short on putting the organisms in an evolutionary context. The book would probably better be sampled a few entries here and there rather than read cover-to-cover as I did - the parade of disjointed facts eventually starts to blur together.