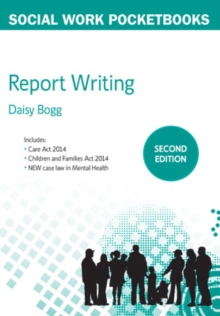 The Pocketbook Guide to Report Writing
Paperback / softback
Description
Daisy Bogg is a qualified and HCPC-registered social worker who has worked within mental health and addiction services for over 20 years, for the NHS, local authorities and voluntary sector organisations. ***Report writing is a key skill for social work and one in which many practitioners receive little formal training or preparation.
Fully revised and updated, the new edition of this handy pocketbook for social workers provides key advice for busy practitioners to help them to write clear, professional and well-structured reports.
This includes practical advice, hints and tips to improve your report writing and ensure you adhere to best practice in your written communications. Social workers will find this guide invaluable for creating high-quality reports for a range of common situations.
This useful book includes:* A range of report templates for a variety of situations, practice contexts and service user groups* Examples of good practice in report writing and common pitfalls to avoid * Examples of legal policy and assessment situations* Checklists of content and style requirements for various report types* Examples of best practice and common pitfalls, including links to the law to make your decisions evidence-based and authoritative* Checklists and decision-making flow charts to simplify what can prove a complex areaWritten by an experienced practitioner, this practical guide is not only suitable for newly-qualified social workers but also their more experienced colleagues that would like to develop and hone their writing skills.
Students of social work will also find this an essential resource for their practice education and beyond. ****This book forms part of a series of pocketbooks for social workers.
These compact guides are written in an accessible and to-the-point style to help the busy practitioner locate the information they need as and when they need it-all bound up in A5 and under!
The pocketbooks explore key practical skills involved in such areas as mental capacity, report writing and assessment.*'This book, in my opinion, is a must for experienced and newly qualified social workers alike.
The author offers a solid platform for social workers to work from by offering initial theory before identifying professional responsibility, distinguishing fact from opinion, aiding the reader to construct the purpose and goal of the report before confidently leading to an evidenced based conclusion.
The book is filled with practical hints, tips and best practice points.
It advises on potential pitfalls, offers a wide range of templates to ensure key areas are covered and goes as far as directing the reader on grammar and even spell-checking!
The book is a practical and valuable resource.'Martin Gilbert, Learning & Development Lead in Mental Health, Birmingham City Council, UK
Information
Format:Paperback / softback
Pages:152 pages
Publisher:Open University Press
Publication Date:16/08/2016
Category:
ISBN:9780335261802