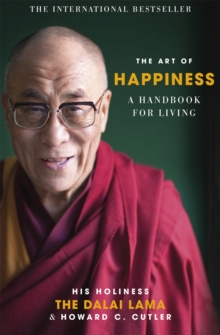 The Art of Happiness : A Handbook for Living
Paperback
Description
In this unique and important book, one of the world's great spiritual leaders offers his practical wisdom and advice on how we can overcome everyday human problems and achieve lasting happiness.The Art of Happiness is a highly accessible guide for a western audience, combining the Dalai Lama's eastern spiritual tradition with Dr Howard C.
Cutler's western perspective. Covering all key areas of human experience, they apply the principles of Tibetan Buddhism to everyday problems and reveal how one can find balance and complete spiritual and mental freedom.For the many who wish to understand more about the Dalai Lama's approach to living, there has never been a book which brings his beliefs so vividly into the real world.
Information
Format: Paperback
Pages: 288 pages, n/a
Publisher: Hodder & Stoughton General Division
Publication Date: 01/10/1999
Category: Popular psychology
ISBN: 9780340750155
Free Home Delivery
on all orders
Pick up orders
from local bookshops
Reviews
Showing 1 - 4 of 4 reviews.
Review by Brianna_H
16/06/2015
Like so many other people who have come across this book, The Art of Happiness changed my life. Reading this book taught me how to change my perspective in order to change my world. I re-read this book everytime I feel as if I am forgetting the valuable lessons contained in this powerful book. You don't need to be Buddhist or unhappy to appreciate The Art of Happiness. This is not like the typical self-help books that preach "at" you or tell you how you should behave or live. This book is inspiring.
Review by isabelx
16/06/2015
A Handbook for LivingThis book came about as a result of a series of conversations about happiness between American psychiatrist Howard Cutler and the Dalai Lama. The Dalai Lama believes that happiness is due to your state of mind rather than the things that happen to you. So it is therefore within your power to train yourself to be happier, by cultivating compassion and changing your attitude to events and other people. Very interesting.
Review by silentq
16/06/2015
The format of the book is that Cutler meets and talks with the Dalai Lama both in India and in Arizona, and distills Buddhist wisdom for a Western audience through his training as a psychiatrist. I have some quibbles about the tone of Cutler's sections, he seems very impressed with himself for talking to the Dalai Lama, and presents scientific justifications for the advice in a tone of "wow, this really is justified". That aside, this interpretation of Buddhism resonated with me, not so much the cited studies (er, well, if he'd actually cited them, no full references were given, just PI and institute), but the Dalai Lama's actual words in response to promptings to phrase concepts in a way that a non Tibetan monk could internalise and apply in their daily life. I'd love to quote long passages that resonated with me, but I'll just refer to it when I need to find mental calm and clarity. I'm unsure if I can attain a state of compassion when riding my bike in Boston, but I have found that I've been less frustrated since reading it. :)
Review by sylverpyro
16/06/2015
This is one of the most highly recommended introduction books to Budhism in the West* (sorry, I don't have a source to cite here other than personal experience of lots of people recommending it to me and the Amazon reviews). I cannot tell if I would have appreciated this book more if I had read it BEFORE The Tibetan Book of Living and Dying.It is written by a Western psychologist who met the Dalai Lama and was fascinated by his teachings. The book is presented as a series of excerpts from conversations on various western psychology and Buddhist topics between the psychologist and the Dalai Lama, as well as excerpts from the Dalai Lama's seminars the psychologist attended. These excerpts are gold. The psychologist's questions and topics provide a perfect character for the western-minded reader to place themselves into, because the reasoning is so familiar. This is important for the book as one gets the sense that the answers the Dalai Lama is presenting are that much more directed at 'you'.The down side of this book is everything in-between the excerpts. The psychologist feels the need to make sure to break down the fairly simple answers being given and place them directly in place of western psychological concepts (when many times the Dalai Lama does for him during the answer). At times, he did go as far to pull on research studies being conducted that backed up the answers.I guess for some people who are reading this book thinking 'what the heck is he talking about?, none of this crap works/is applicable', this is a good thing. Myself, I was having flashbacks from the scene in V for Vendeta after the Old Ballie is blown up with the chancellor chastising "Spare us your professional annotations Mr. Finch, they are IRRELEVANT".But overall the book, for those not already a few steps down the path of understanding Buddhism, has some amazing and moving teaching in it. My favorite one that's going to stick with me for a while is probably going to be the Dalai Lama's view of western psychology trying to root out problems instead of dealing with the symptoms first (paraphrased):"If you come across someone who has been shot with an arrow, you do not look around trying to discern which direction the arrow came from or who shot it. Fist, you remove the arrow!"