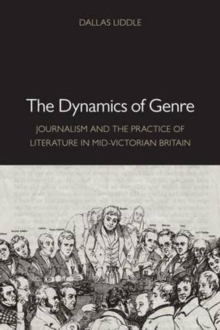 The Dynamics of Genre : Journalism and the Practice of Literature in Mid-Victorian Britain
Hardback
Description
Newspapers, magazines, and other periodicals reached a peak of cultural influence and financial success in Britain in the 1850s and 1860s, out-publishing and out-selling books as much as one hundred to one.
But although scholars have long known that writing for the vast periodical marketplace provided many Victorian authors with needed income - and sometimes even with full second careers as editors and journalists - little has been done to trace how the midcentury ascendancy of periodical discourses might have influenced Victorian literary discourse.
In ""The Dynamics of Genre"", Dallas Liddle innovatively combines Mikhail Bakhtin's dialogic approach to genre with methodological tools from periodicals studies, literary criticism, and the history of the book to offer the first rigorous study of the relationship between mid-Victorian journalistic genres and contemporary poetry, the novel, and serious expository prose.
Liddle shows that periodical genres competed both ideologically and economically with literary genres, and he studies how this competition influenced the midcentury writings and careers of authors including Elizabeth Barrett Browning, Harriet Martineau, Anthony Trollope, George Eliot, and the sensation novelists of the 1860s.
Some Victorian writers directly adopted the successful genre forms and worldview of journalism, but others such as Eliot strongly rejected them, while Trollope launched his successful career partly by using fiction to analyze journalism's growing influence in British society.
Liddle argues that successful interpretation of the works of these and many other authors will be fully possible only when scholars learn to understand the journalistic genre forms with which mid-Victorian literary forms interacted and competed.
Also in the Victorian Literature and Culture Series series | View all