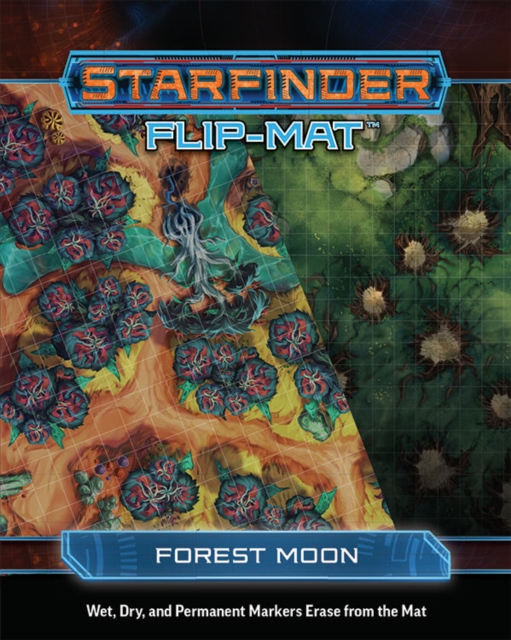 Starfinder Flip-Mat: Forest Moon
Game
Description
Whether the heroes are exploring the world-spanningwoodlands of a living planet or racing enercycles between giant trees in adangerous, high-speed chase, no Game Master wants to spend time drawing everytree trunk and forest trail.
Fortunately, with Paizo's latest StarfinderFlip-Mat, you don't have to!
This line of gaming maps provides ready-to-usescience-fantasy set pieces for the busy Game Master.
This double-sided mapfeatures winding paths through a dense wood on one side and the massive trunksof an old-growth primeval forest on the other.
Don't waste time sketching whenyou could be playing.
With Starfinder Flip-Mat: Forest Moon, you'll be ready thenext time your players go for a walk in thewoods!A special coating on each Flip-Matallows you to use wet erase, dry erase, AND permanent markers with ease!Removing permanent ink is easy-simply trace over any permanent mark with a dryerase marker, wait 10 seconds, then wipe off both marks with a dry cloth orpaper towel. 24" × 30"matFolds to 8" ×10"1" squares on each side
Information
Format:Game
Pages:18 pages
Publisher:Paizo Publishing, LLC
Publication Date:31/08/2021
Category:
ISBN:9781640783447
Information
Format:Game
Pages:18 pages
Publisher:Paizo Publishing, LLC
Publication Date:31/08/2021
Category:
ISBN:9781640783447