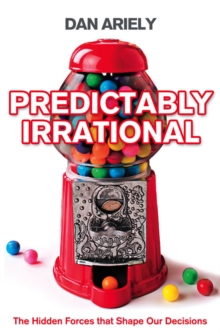 Predictably Irrational : The Hidden Forces That Shape Our Decisions
Paperback
Description
Why do smart people make irrational decisions every day?
The answers will surprise you. Predictably Irrational is an intriguing, witty and utterly original look at why we all make illogical decisions. Why can a 50p aspirin do what a 5p aspirin can't?
If an item is "free" it must be a bargain, right? Why is everything relative, even when it shouldn't be?
How do our expectations influence our actual opinions and decisions? In this astounding book, behavioural economist Dan Ariely cuts to the heart of our strange behaviour, demonstrating how irrationality often supplants rational thought and that the reason for this is embedded in the very structure of our minds. Predicatably Irrational brilliantly blends everyday experiences with a series of illuminating and often surprising experiments, that will change your understanding of human behaviour. And, by recognising these patterns, Ariely shows that we can make better decisions in business, in matters of collective welfare, and in our everyday lives from drinking coffee to losing weight, buying a car to choosing a romantic partner.
Information
Format: Paperback
Pages: 304 pages
Publisher: HarperCollins Publishers
Publication Date: 24/05/2008
Category: Popular science
ISBN: 9780007256532
Free Home Delivery
on all orders
Pick up orders
from local bookshops
Reviews
Showing 1 - 4 of 4 reviews.
Review by ivirago
16/06/2015
I enjoyed this - well worth a read. Some interesting experiments talked about in this book - particularly made me think about the rigour that's involved in trying to make sure your observations are valid - hard work!
Review by stefano
16/06/2015
Very accessible description of various experiments in micro-economics. The outcome is invariably that decisions are heavily influenced by factors that are either un-acknowledged (influence of non-monetary set-up in cheating) or not accurately accounted for (e.g. physical arousal). This is not a comment on the book itself, but these ideas have by now been so widely disseminated in popular science publications that I don't feel I have learned very much from the book that I hadn't already read about elsewhere. Maybe one thing: that much of the thinking that led to this book was triggered by a very traumatic experience, 70% third degree burns from a magnesium flare left Ariely hospitalized for many months at age 18.
Review by raycun
16/06/2015
Essentially an attack on the idea that people make rational economic decisions, and when they don't the market smoothes it all out, through the medium of simple experiments that show some forms of irrationality that we're all prone to. Nicely self-deprecating.
Review by adendate
16/06/2015
Ariely's quintessential argument is that "chicago boys" classical economics fails to consider the irrationality of individual consumers, that said irrationality is actually quite predictable, and that this predictablity has far sweeping economic implications.Without wanting to repeat past reviews, my single biggest qualm with the book was the final point of Ariely's assertion - the implications of these small irrationalities to the broader economic environment. For example, consider his point that things labelled "free" attract a disproportionate reaction from the buyer (that is, a reduction in price from $4 to $0 produces greater behavioural change than a reduction from $20 to $16, even though the marginal benefit is identical). This is a fair point for the individual consumer, but "so what" for the market as a whole? Were the subprime mortgages packaged with other investments overlooked because they were percieved as "free" by buyers? Do people often fall in to deep debt because of "interest free" luxury purchases, reducing the savings rate of individuals and leading to investment bubbles? I can't answer these questions, and Ariely didn't even attempt to. As such, his point - while meaningful for individual consumers and potentially for marketers, fails to abstract to the greater economic realm.If the scope of the book is to inspire consumers to reflect upon their behaviour, the book is a superb success. However, for anyone with an academic interest in macroeconomics, the book fails to make its message relevant.