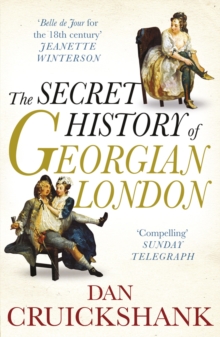 The Secret History of Georgian London : How the Wages of Sin Shaped the Capital
Paperback
Description
Georgian London evokes images of elegant buildings and fine art, but it was also a city where prostitution was rife, houses of ill repute widespread, and many tens of thousands of people dependent in some way or other on the wages of sin.
The sex industry was, in fact, a very powerful force indeed, and in The Secret History of Georgian London, Dan Cruickshank compellingly shows how it came to affect almost every aspect of life and culture in the capital. Examining the nature of the sex trade, he offers a tantalising insight into the impact of prostitution to give us vivid portraits of some of the women who became involved in its world. And he discusses the very varied attitudes of contemporaries - those who sympathised, those who indulged, and those who condemned.
As he powerfully argues, these women, and many thousands like them, not only shaped eighteenth-century London, they also helped determine its future development.
Information
Format: Paperback
Pages: 672 pages
Publisher: Cornerstone
Publication Date: 01/09/2010
Category: British & Irish history
ISBN: 9780099527961
Free Home Delivery
on all orders
Pick up orders
from local bookshops
Reviews
Showing 1 - 2 of 2 reviews.
Review by CliffordDorset
16/06/2015
This book is a detailed history of sex in eighteenth and early nineteenth century London, where its commercial exploitation played a major part in the city's economy and even its architecture. Dan Cruickshank has here pulled together a vast amount of data, mostly in official records and literary pamphlets, which demonstrates the existence of an astonishing number of people involved in the sex industry, at a time when laws were struggling to keep pace with the rapidly changing social life in the expanding city. He has aimed to provide a broad-brush impression of life in the Capital, while including large numbers of illustrative cameos based on the many colourful characters who were active at the time. In particular, Cruickshank gives a wealth of detail on the generally subservient role of women, and many details concerning the notable females who managed to swim successfully against the tide of male oppression. It is a mighty book, with 568 pages of text supported by a further 85 of supporting notes and bibliographic data, and it will be valued as a source for those interested in understanding Georgian society, partly because it refuses to be coy about how people of both sexes enjoyed each other. Such aspects are by no means peripheral to an understanding of the times.
Review by RajivC
16/06/2015
This book is an excellent read. It is meticulously researched, and very well presented. There is a wealth of information, and many, many names. What I like, is that when a name crops up at a page, he refers you back you an earlier page, so you can go back and refresh your memory. An excellent tool indeed. The book is timely, in that it does great service to the women who have often been abused by people of power. Some of these women rose to power, and then died in misery. The tale of Ann Bell is really sad indeed. It is also very interesting to see how many characters of British fiction have been modeled on the players who walked on the world's stage at that time. It does shed clarity on the mores and morals of the times, and some of the poetry is really quite explicit. Good poetry, and well done! The book opened my eyes to the happenings of the times, and I must say that I was quite riveted by the book. A book I recommend to any history buff.