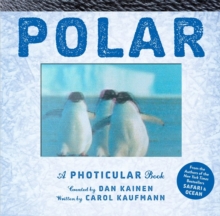 Description
Seeing is believing: Photicular technology is a phenomenon.
Three years - two titles, Safari and Ocean - and 723,000 copies in print.
Through its innovative lenticular process, sliding lenses, and four-colour video imagery, readers discovered the magic of animals bounding and leaping, and then came face to face with creatures of the sea as they undulate and sway.
Now Dan Kainen, the creator of the Photicular technology, takes us even further into places unknown by exploring the ends of the earth, the Arctic and Antarctic.
Polar captures a land of extremes - remote, mysterious, and sparsely populated by creatures found nowhere else.
Penguins waddle in their irresistibly happy way. A walrus lumbers across the snowy landscape. There's a polar bear with her cubs; a beluga whale breaching; a team of sled dogs sprinting directly at the viewer. And the miracle of the northern lights, shimmering likes a silk rainbow.
Science writer Carol Kaufmann brings the reader along on a voyage to the icy North and South Poles and writes a lively and informative essay for each image, including the animal's size, range, habitat, and other vital statistics. Polar captures a hauntingly beautiful yet threatened world, caught forever in moments of living motion.
Information
Format: Hardback
Pages: 24 pages, 8 full-colour photicular images
Publisher: Workman Publishing
Publication Date: 29/05/2015
Category: Photographs: collections
ISBN: 9780761185697
Free Home Delivery
on all orders
Pick up orders
from local bookshops