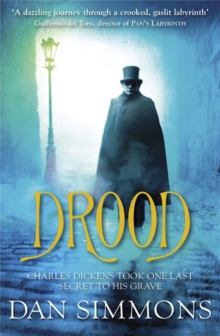 Description
This story shall be about my friend (as at least about the man who was once my friend) Charles Dickens and about the accident that took away his peace of mind, his health, and, some might whisper, his sanity...' Sealed for one hundred and twenty-five years, Wilkie Collins's scribbled words launch a feverish descent into the underbelly of Victorian London as he is dragged into Charles Dickens's pursuit of a spectral figure known only as Drood. Their investigation will lead them through slums, opium dens, catacombs and sewers.
What they discover will destroy their friendship, driving each writer to the very brink of insanity. And murder...
Information
Format: Paperback
Pages: 816 pages
Publisher: Quercus Publishing
Publication Date: 01/10/2009
Category: Historical mysteries
ISBN: 9781847249326
Free Home Delivery
on all orders
Pick up orders
from local bookshops
Reviews
Showing 1 - 3 of 3 reviews.
Review by camillahoel
16/06/2015
Stephen King, according to my copy of this book, calls it "a masterwork of narrative suspense". I can only surmise he has found it hanging somewhere in a really nifty way. It is one of the more underwhelming books I have read this year. First you should know that <i>The Mystery of Edwin Drood</i> was Charles Dickens' last novel. It was left only half finished at his death, and no one knows how it was supposed to end. Simmons is not the first to find inspiration in this state of events. He is not even the first to write his own mystery story with Dickens' novel figuring somewhere at the centre. But he is the first that I know of to make his mystery so completely over the top. What Simmons has done, basically, is say "I can do nothing interesting with the actual mystery of how <i>Edwin Drood</i> would have ended, but I want to profit off whatever connotations of mystery it still carries, so I will mix it up with magic evil Egypt and suggest Dickens may have been a murderer, oh and Collins too and possibly make them both victims, oh and because opium seems to be central to Dickens' book, and since it was central to Collins' most famous book, I must mention the drug three times on each page". The narrator is Wilkie Collins. It has little to nothing to do with the author Wilkie Collins. Simmons makes use of parts of his life, and his name, and his work; but any confusion with the actual Collins (even though he may not have been lily white) is barely short of libel (or is it slander?). That is not my main problem with the narrator, however. My main problem is the lack of subtlety. It was apparent in the very first chapter that Simmons was attempting an unreliable narrator. And that is ok. I like unreliable narrators. Ideally it should be less blatantly obvious, but sometimes the giant big sign which says "I am a scoundrel" can be nice, too. But Simmons does not trust his readers. He seems worried that if he has Collins' envious character describe Dickens as a bad author, inferior to himself, the reader might believe him. So Collins is left constantly contradicting himself. It gets annoying. It is about as subtle as a sledgehammer (I'm sorry about the cliché, but the book does not inspire creativity in me).And to make matters worse, this narrator constantly addresses "my reader from a future century" with comments apparently designed to irk me (yes, I am the centre of the universe). At one moment they are horribly disingenuous, in the next perfect predictions. One that really annoyed me was when he describes Dickens' racism, and then notes that<i>Dickens in our time was, of course, considered a radical liberal, but those credentials were not impeached when he spoke for the majority of Englishmen and wrote --- `…we believe every savage to be in his heart covetous, treacherous, and cruel.'</i> (40)My problem with this is that that explanation of Dickens as racist, yet liberal, only makes sense if the narrator knows that in our time that would not be considered the views of a liberal, or in any way acceptable. Yet somehow Simmons' Wilkie Collins is placed outside the "majority of Englishmen" and able to see the incongruity in the position. If I seem annoyed, that is not only because Simmons has written a thoroughly sub-optimal book. He is not Dan Brown. Somehow that makes it worse. What I am trying to convey, oh so inarticulately, is that Simmons could have written something truly engaging and interesting. The book is <i>very</i> well researched. He seems to have read books you usually have to dig for in most major libraries, if they are there at all. He knows his Dickens, his Collins, their lives, what they wrote. Probably what they ate. And then he fails to follow through. In part because he is too anxious to make use of all this research.What credible character will say, for example, <i>I am greatly honoured to have such a famous writer visit me. I so greatly enjoyed your <u>The Woman in White</u> that was serialised in <u>All the Year Round</u> immediately after Dickens' <u>A Tale of Two Cities</u> ended.</i> (46)<i></i>?It is too cumbersome. That aside, however, most of Simmons' writing is just mediocre, not really bad. There are glimmers of good writing in between, as when Collins writes that <i>I deal with this constant pain … through strength of character. And opium.</i> (43)But most of the book does not shine. Which brings me back to Stephen King's comment on narrative suspense. The book seems to be written as a sort of semi-homage to the sensation novel (a choice probably connected to the use of Collins as narrator). It lives on uncertainty and gory detail. Shock and horror intersped with long, long periods of nothing. These periods are attempts at creating suspense. He cross-cuts, creates cliffhangers, leaves unresolved mysteries … unresolved, while the narrator trudges around Victorian London looking at the fog and avoiding footpads. If done right, it would create suspense. At the moment it is just annoying. If these interlude periods were well-written, that would help. But there is a limit to how much half-hearted mediocrity and grumblings about Collins' complicated personal life or Dickens' philanthropy a girl can take before it just gets annoying. Annoyance is not conductive to suspense. That said. I liked the uncertainty about the mental state of the narrator through most of it (although I think it undermined itself at one point). And the twist did tie up and justify some of the things that had annoyed me early on (hence their absence in this review), but it was too little too late. And it was followed by more unnecessary mediocrity, so I hereby revoke any bonus points it might have gained by that. (Also, curse this book for now making it impossible for me to use <i>Drood</i> as shorthand for <i>The Mystery of Edwin Drood</i>.) All page references are to the paperback edition:Simmons, Dan. <i>Drood.</i> London: Quercus, 2009
Review by richardgarside
16/06/2015
Overlong, repetetive, in places, yawn inducing, wanders between likely fact and nonsense... but it must have something as I stuck it to the end.
Review by wyvernfriend
16/06/2015
After a train accident Dickens is obsessed with a shadowy figure he sees and tells Wilkie Collins about, but what is the truth and what is a halucination from Collins' opium addiction or what has been induced by Dickens' tinkering in mesmerism. Collins is an unreliable narrator and there's a lot of info dumping here. Honestly, if I wanted to read a biography of Dickens I would (and I have) but this just left me feeling hollow afterwards and dissatisfied. While it was readable I it was like watching a train wreck, once I had started I couldn't stop but I felt like I had spent time with some quite unpleasant people. Not my mileage.Famous opium addict is caught up in perception games, ruins his life. Another famous author is unpleasant.