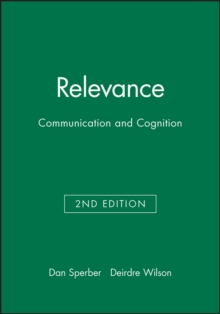 Relevance : Communication and Cognition
Paperback
Description
Relevance, first published in 1986, was named as one of the most important and influential books of the decade in the Times Higher Educational Supplement.
This revised edition includes a new Preface outlining developments in Relevance Theory since 1986, discussing the more serious criticisms of the theory, and envisaging possible revisions or extensions.
The book sets out to lay the foundation for a unified theory of cognitive science.
The authors argue than human cognition has a goal: we pay attention only to information which seems to us relevant.
To communicate is to claim someonea s attention, and hence to imply that the information communicated is relevant.
Thus, a single property -- relevance is seen as the key to human communication and cognition.
A second important feature of the book is its approach to the study of reasoning.
It elucidates the role of background or contextual information in spontaneous inference, and shows that non--demonstrative inference processes can be fruitfully analysed as a form of suitably constrained guesswork.
It directly challenges recent claims that human central thought processes are likely to remain a mystery for some time to come. Thirdly, the authors offer new insight into language and literature, radically revising current view on the nature and goals of verbal comprehension, and in particular on metaphor, irony, style, speech acts, presupposition and implicature.
Information
Format: Paperback
Pages: 336 pages, 0
Publisher: John Wiley and Sons Ltd
Publication Date: 02/12/1995
Category: linguistics
ISBN: 9780631198789
Free Home Delivery
on all orders
Pick up orders
from local bookshops
Reviews
Showing 1 - 1 of 1 reviews.
Review by MeditationesMartini
16/06/2015
This book presents what I think future humans will recognize as one of the classic "great ideas": that human cognition and communication are geared toward the achievement of "relevance," defined as the property by which more "cognitive effects" are produced at less "cognitive cost." It moved the discussion of human communication in the fields of language philosophy and psychology/cognitive science away from the cheesy old "code" model where one brain composes an utterance in a transparent system that is then transmitted and translated transparently by a receiving brain, to one that is rooted in inference and interaction and mysteries and everything that makes life worth living. It is an idea rooted in the hardest of science (the best models of how we understand the brain) and with deep implications for the arts and the emotions (the study of metaphor, say, or the experience of irony, which come to be seen as not qualitatively different from default literalness and bald sincerity but as reliant on relevance principles--the former, where relevance allows us to skip straight to the intended "metaphorical" meaning while avoiding the allegedly default literal meaning (if I say "he's such a little trouper" you don't even stop to think of a member of an acting company but understand me to mean a staunch colleague, obviating the categorical distinction; and in the latter case, if, say, you're a nervous nelly and you stop for a loooong time at the crosswalk and there's no one in sight and I go "watch out for the car" with my dry wit, relevance says that I don't actually mean "watch out for the car."And then they actually take us from there to why what I mean is "I think it's fine, dude" using a lot of inferred cognitive processes and (non-formal) logic, and I'll be honest, the detailed proofwork doesn't interest me much and that is one reason I only gave this 4 1/2 stars. I don't care if it's real so much as I care if it's fascinating, and this is, and the basic ideas about cognitive and communicative principles and not categorizing types of speech acts but instead understanding each utterance in terms of its unique contextual effects and seeing speech as structured by a semantic grammar that is analogous to syntactic grammar--drawing tree diagrams where we begin our interpretive engagement with the content of some communicative act or hell with the physical world as a whole by assuming that "something" (the old subject noun phrase) "did" (the verb) "something" (the predicate or the direct object, and then of course we can differentiate those into transitives and intransitives depending on whether something did something TO something or not and oh yeah, such it generative grammar, language is structured the way it is to reflect reality and we lose the world of theta-roles and that of agents and experiencers and syntax and semantics are redeemed at a swoop, So simple ne. There are years of subtleties here but what I see rings true, though unless you intend to make a career in this stuff or are very patient you might be better served reading the intro and the postscript and a couple of their lighter papers. Sperber and Wilson are good writers but for a principle with so much Occam's razor potential for the study of language and cognition this drops into some dense and abstruse stuff. Nonetheless, a human triumph.