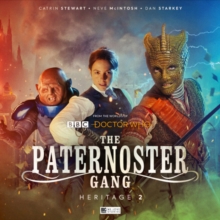 The Paternoster Gang: Heritage 2
CD-Audio
Description
Victorian London harbours many secrets: alien visitors, strange phenomena and unearthly powers.
But a trio of investigators stands ready to delve into such mysteries - the Great Detective, Madame Vastra; her resourceful spouse, Jenny Flint; and their loyal valet, Strax.
If an impossible puzzle needs solving, or a grave injustice needs righting, help can be found on Paternoster Row.
But even heroes can never escape their past...Contains three new adventures - 1.Dining with Death byDan Starkey.
When negotiations between two warring alien races are sabotaged, Madame Vastra offers Paternoster Row as neutral ground upon which to continue their diplomacy - and the celebrate the treaty with a feast.
While Strax frets about hosting two species with very different dietary needs, Jenny investigates the dissenters who want to halt the peace process. But a deadly plot is brewing, and the diners way not survive the cheese course...2.The Screaming Ceiling by Guy Adams.
In one of the earliest cases of his illustrious career, Thomas Carnacki heads to the Highlands to embark upon the terrifying investigation of Castle Kraighten.
On arrival, he finds that another party of sleuths has been engaged - surely these amateurs of Paternoster Row have nothing to teach the great Ghost Finder?
But this is no ordinary haunting. A room in the castle has a mouth in the ceiling. And it screams...3. Spring-Heeled Jack by Gemma Arrowsmith. People are being stolen from the streets by a monster.
By all accounts, it has burning eyes, breathes blue flames, and can leap the height of a building at a bound.
While Vastra and Jenny fend off an over-eager member of the gutter press, Strax dives into dangerous waters.
CAST: Neve McIntosh (Madame Vastra), Catrin Stewart (Jenny Flint), Dan Starkey (Strax), Hywel Morgan (Baron Gallos Flambo), Polly Kemp (Duchess Callys Flambo), Glen McCready (Auditor-General Otak Lame), Joe Jameson (Carnacki), David Shaw-Parker(John Campbell), Caroline Guthrie(Anna Campbell), Janet Henfrey (Dorothy), Isabella Inchbald (Elizabeth), Daniel Easton(Jimmy), Sophie Cotton (Gwendoline Platt), Joe Sims (Sergeant Grout).
Other parts played by members of the cast.
Information
Format: CD-Audio
Publisher: Big Finish Productions Ltd
Publication Date: 31/12/2019
Category: Space opera
ISBN: 9781787038011
Free Home Delivery
on all orders
Pick up orders
from local bookshops
Also by Dan Starkey