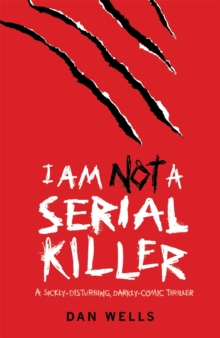 I Am Not A Serial Killer: Now a major film
Paperback
Description
I Am Not A Serial Killer is now a major film starring Christopher Lloyd and Max Records.
This is the first title in the thrillingly dark John Wayne Carver series.John works in his family's mortuary and has an obsession with serial killers.
He wants to be a good person, but fears he is a sociopath, and for years he has suppressed his dark side through a strict system of rules designed to mimic 'normal' behavior.
Then a demon begins stalking his small town and killing people one by one, and John is forced to give in to his darker nature in order to save them.
As he struggles to understand the demon and find a way to kill it, his own mind begins to unravel until he fears he may never regain control.
Faced with the reality that he is, perhaps, more monstrous than the monster he is fighting, John must make a final stand against the horrors of both the demon and himself.
Information
Format: Paperback
Pages: 288 pages
Publisher: Headline Publishing Group
Publication Date: 01/03/2009
Category: Horror & ghost stories
ISBN: 9780755348817
Free Home Delivery
on all orders
Pick up orders
from local bookshops
Reviews
Showing 1 - 2 of 2 reviews.
Review by othersam
16/06/2015
The world is full of stories about people trying to be good. Here's one about someone trying not to be evil.Fifteen year old John Wayne Cleaver really, really doesn't want to become a serial killer. But it's not easy for him: he's fascinated by death and dead bodies; his days and nights are plagued by thoughts and dreams of blood and cruelty – and he's a diagnosed sociopath. He finds it very difficult to relate to other people at all.John knows he has a problem. To keep his lethal tendencies under control he lives by a rigorous set of self-imposed rules. But when a series of brutal murders begins in the town where John lives, he faces an even bigger challenge: to stop the killer he will have to unleash the killer inside himself.I'll level with you: serial killer stories aren't really my thing – particularly ones that fetishise their villains by granting them superhero-style powers and ingenuity while still pretending to be realistic (yeah, Hannibal Lecter and your imitators, I'm looking at /you/). But I mowed through I Am Not A Serial Killer and its follow-up Mr Monster in the space of two days, utterly transfixed.It might seem paradoxical, but author Dan Wells has approached his sociopathic narrator with an enormous amount of empathy, wit and human warmth. As well as their moments of horror these books are full – for instance – of moments of pitch-black comedy. I particularly loved John's rule that whenever he feels himself wanting to kill someone he makes himself smile and give them a compliment instead (if John tells you you're "wearing a nice shirt" you should know it's time to back away and give him some space!)You feel John's struggle with himself. Reading between the lines of John's world-view – thanks to some incredibly deft writing from Wells – you also feel the struggle of the people around John, who have to deal with him and the way he is. All this plus demons, gore and heartstopping suspense. These books are /awesome/. I hear a third is on the way. Can't wait.
Review by sharonluvscats
16/06/2015
This is an effing amazing series! This series is like my cocaine. I picked up the book and once I am started I cannot put it down until I am finished. I would sell my vcr or dvd player for the chance to read the third book. I am officially a Dan Wells crack head. I picked up the series after reading Book Chick City's raving reviews and boy am I glad that I did! Once again she points me in the direction of an amazing book. Thank you!What makes this series so amazing is Dan Wells's ability to get you into the mind of the young sociopath John Cleaver. John is such a fascinating character. Reading about his battles with his violent tendencies and seeing how he deals with them is simply fascinating. I don't think I have ever read a series quite like this one. There are so many things to not like about John. He spends most of book two fantasizing about killing and embalming his young and cute female neighbor. But there is another side to John that wants to help and not hurt people. The constant conflict between Johns two sides is what makes him such an endearing and realistic character. Another thing that I love about this series is John's family. I adore his mother and it is always interesting to see how she reacts to Johns violent personality. Book two also involves a story with his sister Lauren. I hope to see more of her in book three. I have also learned more about embalming from reading this series then I ever needed to know. There was a lot of this in the first book and it might be off putting to some. One last thing I can't leave out in this review are the mysteries that John gets involved in. When I read the first book I wasn't expecting any supernatural aspects. The book could have gone done hill from there but somehow Dan Wells avoid the whole cheesy paranormal stereotype. The mysteries that John becomes involved in are a real page turner. I don't want to give too much away about what type of villains John fights (aside from his own) needless to say they are even creepier than normal serial killers. Think Ted Bundy with paranormal powers. Scared yet?