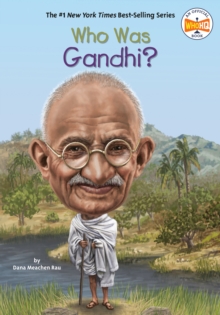 Who Was Gandhi?
Paperback
Description
Mohandas Karamchand Gandhi was born in 1869 in British-occupied India.
Though he studied law in London and spent his early adulthood in South Africa, he remained devoted to his homeland and spent the later part of his life working to make India an independent nation.
Calling for non-violent civil disobedience, Gandhi led India to independence and inspired movements for civil rights around the world.
Gandhi is recognized internationally as a symbol of hope, peace, and freedom.
Information
Format: Paperback
Pages: 112 pages, full colour illustrations throughout
Publisher: Grosset and Dunlap
Publication Date: 13/11/2014
ISBN: 9780448482354
Free Home Delivery
on all orders
Pick up orders
from local bookshops
Reviews
Showing 1 - 2 of 2 reviews.
Review by Taranto
27/08/2015
The best biography series there is. Every classroom library should have a collection of these books. They range from biographies on historical figures, musicians, inventors, and to people of today like J. K. Rowling. They all have a cartoon character drawing of the person on the cover, which makes the books inviting to all readers. If you are teaching a unit in nonfiction, you must have access to these books. Students will fly through them and learn a great deal.
Review by CharlesHollis
27/08/2015
I confess that I was pleasantly surprised at how much I enjoyed this book. As a historian by training I am admittedly skeptical of any books purporting to serve as a biography. However, in this book I could find no flaw. To be sure, the style and pictures may be met with an equal measure of skepticism from high school students, I feel that this book would be a welcome addition to any class from the Elementary all the way to the Secondary Education level. The book is a partial biography with certain elements of an informational picture book, specifically its frequent inclusion of informational pages. Indeed, this inclusion came to be my favorite aspect of the book because of my (often unforgiving) treatment of biographies. It never failed that anytime I had some quibble about its presentation of the life of Gandhi, the at times maddening nuances of the Hindu society and spirituality, or the division of Pakistan and India following British rule the very next page would (in a different, handwritten style font) go into further detail and flesh out the fact to address my nit-picking. (12-13, 22-23, 95) Indeed, it managed to teach me some things that I had not known, such as Gandhi's difficulty and ultimate success in finding a vegetarian restaurant in London, or his difficulty with public speaking. (24, 28) It was this last point which I feel makes this a valuable book to have for children as it extensively chronicles his childhood and early life in which Gandhi endured such crippling shyness that he was unable to give speeches or even take part in trials as a lawyer. (25, 28) However, it was when he felt the call to fight social injustice against his people that he found his voice. (33) I feel that, given the predilection of some children to be afflicted with shyness, this is an important book for them in that it shows how famous people had the same challenge as they may be experiencing. In terms of accuracy, the author's qualifications could not be found within the book. However, a search of her website reveals that she has written extensively about a range of topics, including biographies, meant for early readers to Middle School students. It is important to note that Dana Meachen Rau, the author, included a bibliography, which included a number of reputable textual sources, including Gandhi's autobiography. It is with these sources that she was able to avoid making use of generalizations, anthropomorphism, sensationalism, or any other type of opinion based statements. As referenced before, its content wedded attention to scope, and depth while maintaining a tight focus. The book looked at the life of Gandhi. To this end, it examined both his personal life and formative experiences as well as the work of nonviolent civil disobedience to secure rights and freedom for his people for which he is known. It managed to cover this, along with his studies in London and his work and experiences among the Indian community in South Africa in enough depth to be informative, while at the same time avoiding bringing the book to a halt. It also managed to avoid spiraling off into tangents about broader global politics or parallel events, such as the United Kingdom's involvement in two successive World Wars, or the realities of maintaining a global empire subsequent to these events. The style itself is clear while avoiding over simplification and to that end the language used is accessible to just about all ages without being either too difficult, or too pedantic. The same is true of its tone as it conveyed this information without talking down to myself as the reader. The structure of the book was chronological, as it followed Gandhi's life from his birth to his assassination. It also divided itself into chapters with a table of contents provided for reference. As mentioned, it is a picture book and the illustrations themselves are in drawing format as are any maps included, such as the one of India after its partition. (95) The cover itself is an illustration of Gandhi as he is typically portrayed, bespectacled and clad in his homespun garments. However, his head is larger than normal to draw the eyes towards the book. It is very eye catching. The endpage shows a more detailed and realistic illustration of the man. The table of contents effectively notes the most important concepts of each chapter and lists them as the chapters' respective titles in a concise and pointed manner. The book lacks an index and I feel, with some of the terms and concepts stated, that it would have benefited from its inclusion. To this end, it was also lacking in a glossary which, given some of the nonwestern vocabulary introduced, it could have used. However, the definitions for terms, such as hartal and lathis, were effectively listed in the text itself. (60, 61) As indicated, foreign language terms were italicized. Not only do I strongly urge for this book's inclusion in any library, but I would also strongly advise that other books in the "Who Is…?/Who Was…?" series by closely examined for possible inclusion as well.