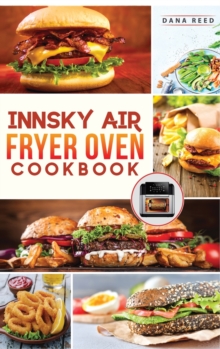 Innsky Air Fryer Oven Cookbook : Crispy, Easy and Delicious Recipes that Anyone Can Cook and Want to Enjoy Tasty Effortless Dishes.
Hardback
Description
★ Are you going to cook with your INNSKY Air Fryer oven but don't know where to start?
Do you love crispy fried food but worry about your health?
Quit worrying! In this cookbook, you'll learn not only how to start but love your smart oven.
Eat healthy and tasty meals with Innsky Air-Fryer Oven on a budget! ★
This Innsky Air-Fryer Oven Cookbook is a comprehensive guide on how to operate the appliance. It contains tips and tricks, delectable recipes and other basics of the appliance that will turn you into a professional. The categories include but not limited:
Breakfast and Brunch Recipes
Lots of protein recipes - Poultry, Meat, Fish & Seafood
Great variety of Vegan and Vegetarian recipes
Fascinating Desserts
And much more!
Don't miss out on an opportunity for mouthwatering and healthy meals.
Grab your copy now! ✓
Information
Format:Hardback
Pages:190 pages
Publisher:Harold Hull
Publication Date:08/02/2021
Category:
ISBN:9781801720625
Other Formats
Paperback / softback from £12.75
Hardback from £24.55