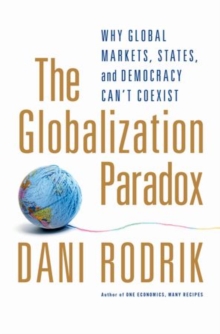 The Globalization Paradox : Why Global Markets, States, and Democracy Can't Coexist
Paperback
Description
For a century, economists have driven forward the cause of globalization in financial institutions, labour markets, and trade.
Yet there have been consistent warning signs that a global economy and free trade might not always be advantageous.
Where are the pressure points? What could be done about them? Dani Rodrik examines the back-story from its seventeenth-century origins through the milestones of the gold standard, the Bretton Woods Agreement, and the Washington Consensus, to the present day.
Although economic globalization has enabled unprecedented levels of prosperity in advanced countries and has been a boon to hundreds of millions of poor workers in China and elsewhere in Asia, it is a concept that rests on shaky pillars, he contends.
Its long-term sustainability is not a given. The heart of Rodrik's argument is a fundamental 'trilemma': that we cannot simultaneously pursue democracy, national self-determination, and economic globalization.
Give too much power to governments, and you have protectionism.
Give markets too much freedom, and you have an unstable world economy with little social and political support from those it is supposed to help. Rodrik argues for smart globalization, not maximum globalization.
Information
Format: Paperback
Pages: 370 pages
Publisher: Oxford University Press
Publication Date: 01/05/2012
Category: Globalization
ISBN: 9780199652525
Free Home Delivery
on all orders
Pick up orders
from local bookshops
Reviews
Showing 1 - 1 of 1 reviews.
Review by Miro
16/06/2015
In this excellent book, Dani Rodrik, professor of International Political Economy at Harvard, argues that the "World Isn´t Flat", and that it is in fact rather lumpy, and he goes on to show that this is its natural state, rather the bland homogenized version favoured in neo-liberalist arguments.He further links the "lumpiness" to the essential characteristics of individual nations derived from their history, their stage of economic development, their sociological background etc. A key point of the book is that this "lumpiness" is in no way bad, it is only the unique starting point of each county as it moves towards the future and chooses policies that best suit its individual needs. He uses the well known Hedgehog and Fox metaphor, advocating the flexibility of the Fox rather than the single one size fits all action of the Hedgehog (unquestioning liberal free market in all things), showing that the remarkable development of Asia has been the result of a "Fox" strategy in which governments have used the global market to gain technology, skills and happily used trade subsidies and protection to aid developing industries. This would apply to Japan, Korea, Taiwan and China with Rodik clearly making the point that the unprecedented escape from poverty of these countries was necessarily based on an "a la carte" approach to globalization and the liberal free market.If Asian governments had adopted in their development stage the complete liberal free market package with its intellectual property rules, floating exchange rates, lack of tariff barriers and blocking of technology transfer they could have expected to remain offshore sources of cheap labour, which may after all have been the intent of the original globalization project. Rodik presents each country as having unique development requirements but this is not to say that the world has not been "Flatish" during certain unusual historical periods. Occasionaly sufficient outside force has been available to flatten the landscape and in this regard he gives the examples of the 19th century British Empire and the post WW2 United States. In both cases they were strong enough to provide a world currency, an international legal framework and dominate world trade and industrial production (and not coincidentally they both supported free trade open markets for their manufactures).Interestingly, they both also ran into similar problems as they lost manufacturing competitiveness and encountered severe debt-financing difficulties with imperial overreach and heavy social security commitments. However, rather than abandoning the reserve role for their currency and accepting deflationary adjustment as the British did, Rodik shows that from 1980+ the United States elected to keep the party going with large scale deficit financing and a hard line neo-liberal philosophy encouraging extreme outsourcing, even at the cost of removing whole sectors of US manufacturing industry. Essentially the author sees this as a political sell out to special interests putting their profits ahead of national social needs like employment and skill development. He usefully shows that the ignored distributional aspects of outsourcing greatly outweigh the minimal overall "gains from trade" and also illustrates the critical importance of modern industries and their local supply chains for an advanced economy.The book doesn't go a great length into the current situation but the author shows that delaying the inevitable doesn't mean that it's not coming. Whereas the British engaged in a long deflation, the US chose to built up enormous deficits funded by Chinese and Japanese purchases of treasuries (to keep their currencies competitive) and continues to spend on a lavish scale money that it doesn't have.The author doesn't say it, but in reality, no imaginable tax increases or spending cuts can fix the American problem so he might have added a last chapter explaining how U.S. society would deal with large scale inflation (devaluation of the dollar) and the implications of U.S. inflation for globalization and trade in general.An unusual and highly recommended book.