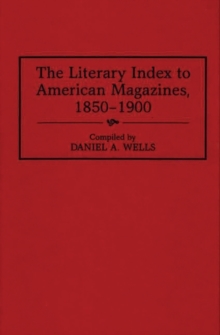 The Literary Index to American Magazines, 1850-1900
Hardback
Description
American literary magazines published between 1850 and 1900 were an outlet for numerous creative works, book reviews, and other material.
Like Herman Melville, Mark Twain, and Henry James, many of the authors who wrote for these magazines are among the most famous American authors.
This index makes readily available for the first time thousands of references to major and minor literary figures and their works.
It is also a guide to the many thousands of facts, opinions, and comments on 19th-century American culture that are contained in literary magazines of the period.
Alphabetically arranged entries cover roughly a thousand authors, along with topics such as the novel, poetry, drama and theater, Darwinism, women, American literature, and copyright law. During the latter half of the 19th-century, literary magazines flourished in America.
Young writers enjoying their first important publication stand shoulder to shoulder with established writers in magazine issues that are so rich with original material that they often resemble anthologies.
Perhaps even more significantly, editors and reviewers doggedly plied their trade of evaluating and criticizing promising new volumes, analyzing trends and movements, and recording the rise and fall of reputations. The Literary Index is the result of combing 11 prominent American literary magazines for every reference to all major and hundreds of minor writers and their works that appeared on the American literary scene in the second half of the 19th century.
Brought to light are tens of thousands of references to writers, works, and issues that have never been studied before.
This rich source of material drawn from all sections of the magazines-original works, articles, reviews, gossip columns, and correspondence, provides unprecedented access to information on the receptions of major works, the comings and goings of writers and obscure works.
The 700 author entries are arranged alphabetically and include citations for some 7000 titles.
In addition, there are exhaustive and comprehensive lists of citations for general subjects such as the novel, poetry, drama and theater, American literature, Darwinism, and women, as well as a section on the century-long battle over the passage of an international copyright law.
Every aspect of the literary world of late 19th-century America is represented, making this volume an indispensable reference work for scholars.
Free Home Delivery
on all orders
Pick up orders
from local bookshops
Also in the Bibliographies and Indexes in American Literature series | View all