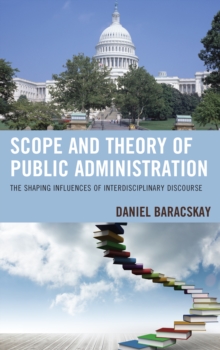 Scope and Theory of Public Administration : The Shaping Influences of Interdisciplinary Discourse
Paperback / softback
Description
The scope and theory of American public administration have expanded outward over time through the process of interdisciplinary discourse.
Interdisciplinary approaches are rooted in ancient times, but it is in modern applications that the process has become most noticeable as a substantive influence in how academic disciplines and professional practices evolve.
The process of interdisciplinary discourse occurs first by decoding and interpreting basic language and concepts, and then progresses to an operationalization of ideas, consensus-building, synthesis and integration, and eventually the systematization of knowledge.
It is from the systematization of knowledge that a discipline's foundations are forged and evolve.
Government is as old as society, but American public administration emerged as a structured field largely toward the late nineteenth-century, developing over the course of 125 years through the exchange of interdisciplinary ideas.
The current literature on interdisciplinary approaches focuses almost exclusively upon basic teaching and research applications.
This book extends the topic significantly by developing a formal process by which basic, intermediate, and advanced levels of communication are analyzed and understood.
The value of this approach rests in being able to explore public administration history and contemporary times through the assorted contexts and ideas which affected the lower order core constructs (concepts, values, and principles) and higher order associational constructs (methodologies, theories, and foundations) that have been forged.
As the field's scope and theory expanded over time through the exchange of interdisciplinary content, lower levels of consensus from within caused segments of academicians to argue that an intellectual crisis had occurred, reflecting the lack of a unifying theory or paradigm.
Debate over what role traditional modes of inquiry and thought would have in a contemporary era of scientific techniques naturally propelled the field into a normative-science debate.
This, along with the rise of competing theories, advancements in technology, and an emphasis on establishing public administration as a relevant field with professional stature, led to two subsequent recastings during which the field has modernized and updated itself gradually over the course of several years.
A third recasting may be on the horizon, carrying forward the many shaping influences of interdisciplinary discourse.
Information
Format: Paperback / softback
Pages: 284 pages, 25 Illustrations, black and white
Publisher: Lexington Books
Publication Date: 07/11/2018
Category: Public administration
ISBN: 9781498506717
Other Formats
EPUB from £91.80
Hardback from £59.75