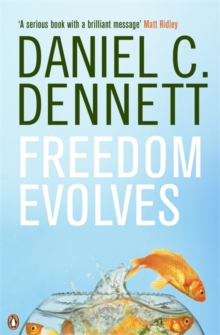 Freedom Evolves
Paperback
Description
Daniel C. Dennett's Freedom Evolves tackles the most important question of human existence - is there really such a thing as free will? How can humans make genuinely independent choices if we are just a cluster of cells and genes in a world determined by scientific laws? Here, Daniel Dennett provides an impassioned defense of free will.
But rather than freedom being an eternal, unchanging condition of our existence, in reality, he reveals, it has evolved: just like life on the planet and the air we breathe.
Evolution is the key to resolving this greatest of philosophical questions - and to understanding our place in the world as uniquely free agents. Dennett shows that far from there being an incompatibility between contemporary science and the traditional vision of freedom and morality, it is only recently that science has advanced to the point where we can see how we came to have our unique kind of freedom. 'A serious book with a brilliant message' Matt Ridley, author of The Red Queen 'Powerful and ingenious ...
The definitive argument that the human mind is a product of evolution' John Gray, Independent 'A book of sparkling brio and seemingly effortless panache ...
Dennett at his best is as good as it gets' Spectator Daniel C.
Dennett is one of the most original and provocative thinkers in the world.
A brilliant polemicist and philosopher, he is famous for challenging unexamined orthodoxies, and an outspoken supporter of the Brights movement.
His books include Brainstorms, Brainchildren, Elbow Room, Breaking the Spell, Darwin's Dangerous Idea and Freedom Evolves.
Free Home Delivery
on all orders
Pick up orders
from local bookshops
Reviews
Showing 1 - 1 of 1 reviews.
Review by todd.gutschow
16/06/2015
Borrowed from library. Excellent investigation into the concept of free will. For a long time I couldn't reconcile my firm commitment to a naturalistic world view, with my undeniable sense of personal identity and autonomy. Reading Dennet helped me discover some simple linguistic hurdles that were obstructing my progress. Definitely recommended if you are at all interested in the apparent conflict between freedom and determinism.