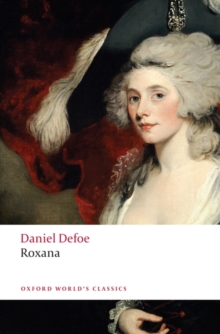 Roxana : The Fortunate Mistress
Paperback
Description
Roxana (1724), Defoe's last and darkest novel, is the autobiography of a woman who has traded her virtue, at first for survival, and then for fame and fortune.
Its narrator tells the story of her own 'wicked' life as the mistress of rich and powerful men.
A resourceful adventuress, she is also an unforgiving analyst of her own susceptibilities, who tells us of the price she pays for her successes.
Endowed with many seductive skills, she is herself seduced: by money, by dreams of rank, and by the illusion that she can escape her own past.
Unlike Defoe's other penitent anti-heroes, however, she fails to triumph over these weaknesses.
The novel's drama lies not only in the heroine's 'vast variety of fortunes', but in her attempts to understand the sometimes bitter lessons of her life as a 'Fortunate Mistress'.
Defoe's achievement was to invent, in 'Roxana', a gripping story-teller as well as a gripping story.
This edition uses the rare first edition text, with a new introduction, detailed notes, textual history, and a map.
ABOUT THE SERIES: For over 100 years Oxford World's Classics has made available the widest range of literature from around the globe. Each affordable volume reflects Oxford's commitment to scholarship, providing the most accurate text plus a wealth of other valuable features, including expert introductions by leading authorities, helpful notes to clarify the text, up-to-date bibliographies for further study, and much more.
Information
Format: Paperback
Pages: 400 pages, 2 halftones, 1 map
Publisher: Oxford University Press
Publication Date: 10/07/2008
Category: Literary studies: c 1500 to c 1800
ISBN: 9780199536740
Other Formats
Paperback from £7.79
Paperback / softback from £7.99
Hardback from £31.59
Free Home Delivery
on all orders
Pick up orders
from local bookshops
Reviews
Showing 1 - 3 of 3 reviews.
Review by briannad84
16/06/2015
I'm glad women have come farther than this!
Review by RussellBittner
16/06/2015
As with <I><B>Moll Flanders</B>,</I> Dafoe's point of view is the first-person singular. Once again, a man (Defoe) tells the story through the eyes and heart of a woman (Susan — if the single mention of that name on p. 233 is our cue). And the name 'Roxana'? Shouted out in praise of Susan's appearance — then dance, in full Turkish regalia — at a party of courtly notables (on p. 200).<br/><br/>The name stuck — and would haunt Defoe's heroine for the rest of her natural life.<br/><br/>While not so much an object of poverty and pity as Moll Flanders, Susan — alias Roxana ("the Fortunate Mistress") — is still an object. As she herself puts it: "Thus far I am a standing mark of the weakness of great men in their vice, that value not squandering away immense wealth upon the most worthless creatures; or, to sum it up in a word, they raise the value of the object which they pretend to pitch upon by their fancy — I say, raise the value of it at their own expense, give vast presents for a ruinous favor which is so far from being equal to the price, that nothing will at least prove more absurd than the cost men are at to purchase their own destruction" (pp. 82 – 83).<br/><br/>Much further on in her story, we find this additional rumination: "…the question remained still unanswered, why am I a whore now? Nor indeed had I anything to say for myself, even to myself. I could not without blushing, as wicked as I was, answer that I loved it for the sake of the vice, and that I delighted in being a whore as such — I say I could not say this even to myself, and all alone, nor indeed would it have been true. I was never able in justice and with truth to say I was so wicked as that, but as necessity first debauched me and poverty made me a whore at the beginning, so excess of avarice for getting money and excess of vanity continued me in the crime, not being able to resist the flatteries of great persons… These were my baits, these the chains by which the devil held me bound, and by which I was indeed too fast held for any reasoning that I was then mistress of to deliver me from" (p. 230).<br/><br/>And finally, we have this self-critical observation (on p. 341): "Another reflection was, how just it is that sin and shame follow one another so constantly at the heels, that they are not like attendants only, but like cause and consequence, necessarily connected one with another; that the crime going before, the scandal is certain to follow and that 'tis not in the power of human nature to conceal the first or avoid the last."<br/><br/>"Sin and shame" are indeed the subject-matter of <I><B>Roxana, The Fortunate Mistress</B>.</I> And while deciphering Defoe's prose (which I have accurately transcribed above) is not nearly the challenge it was in <I><B>Moll Flanders</B>,</I> that same prose is nevertheless of another era — and no picnic for the reader.<br/><br/>The principal difference, as I see it, between Susan/Roxana and Moll: that Moll is the victim of her undoing; Susan/Roxana, the agent. Both women act so as to improve their unhappy conditions. But Susan/Roxana would appear to be more conscious of the consequences of her actions, while Moll simply rebounds from one catastrophe to another.<br/><br/>And what do they have in common at the end? <B>Doom</B>.<br/><br/>RRB<br/>10/30/13<br/>Brooklyn, NY<br/>
Review by Lukerik
16/06/2015
An excellent edition on good paper, mocked up inside like the first edition with the original spelling, with sensible notes and a knowledgable introduction, which, it should be noted, should not be glimpsed by a first time reader as it gives away the ending.Hopefully none of my friends will ever read this novel. Roxana is so like me that they might come to know me all too well.
Also in the Oxford World's Classics series | View all