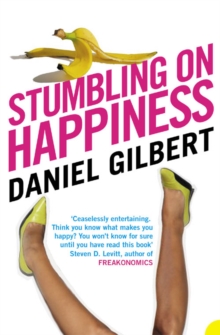 Stumbling on Happiness
Paperback
Description
In this fascinating and often hilarious work - winner of the Royal Society of Science Prize 2007 - pre-eminent psychologist Daniel Gilbert shows how - and why - the majority of us have no idea how to make ourselves happy.We all want to be happy, but do we know how?
When it comes to improving tomorrow at the expense of today, we're terrible at predicting how to please our future selves.In `Stumbling on Happiness' Professor Daniel Gilbert combines psychology, neuroscience, economics and philosophy with irrepressible wit to describe how the human brain imagines its future - and how well (or badly) it predicts what it will enjoy.
Revealing some of the amazing secrets of human motivation, he also answers thought-provoking questions - why do dining companions order different meals instead of getting what they want?
Why are shoppers happier when they can't get refunds? And why are couples less satisfied after having children while insisting that their kids are a source of joy?
Information
Format: Paperback
Pages: 352 pages
Publisher: HarperCollins Publishers
Publication Date: 18/11/2006
Category: Popular psychology
ISBN: 9780007183135
Free Home Delivery
on all orders
Pick up orders
from local bookshops
Reviews
Showing 1 - 2 of 2 reviews.
Review by psiloiordinary
16/06/2015
A fascinating tour around the inside of your very own skull.Wow things make a lot more sense now I have read this. It is yet to be seen if knowing this stuff will mean I change anything, according to the book itself probably not, but I think knowing how your own mind works does help you cope with it better when it is mis-behaving.Lots of anecdotes to illustrate his points which actually turn out to be scientific studies, so you get the entertainment and the facts in one go.Written like he is whispering into your ear. No he isn't point scoring he is just as human/bad/good at this stuff as the rest of us. A good suggestion for any misanthropists out there.A clear solution to feeling happy whihc of course no one will ever take any heed of.Entertaining, enlightening and full of "Hey listen to this . . . " moments.He is now on my reading list.
Review by peter.g
16/06/2015
Thought provoking and often humorous, this book may not show the way to happiness, but it does a very good job of pointing out how the shortcomings of our thinking process lead to us all making similar mistakes when it comes to finding happiness.
Also by Daniel Gilbert