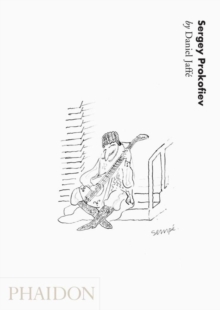 Sergey Prokofiev
Paperback / softback
Description
Sergey Prokofiev (1891-1953) was considered strikingly modern in his day, yet his compositions retain a compelling lyricism and an acerbic wit that have ensured their enduring popularity.
Having left his native Russia for the USA and subsequently Paris, he spent the last 17 years of his life in the USSR, where his work was heavily influenced by Stalin's cultural policies.
Daniel Jaffe's comprehensive biography offers a detailed examination of this remarkable composer's life and works, in the context of the other cultural luminaries of his day and the political turmoil of early twentieth-century Russia.
Information
Format: Paperback / softback
Pages: 240 pages
Publisher: Phaidon Press Ltd
Publication Date: 01/03/2008
ISBN: 9780714847740
Also by Daniel Jaffe