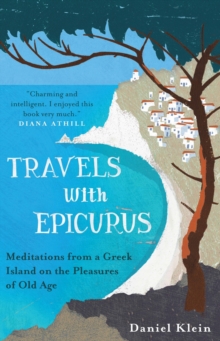 Travels with Epicurus : Meditations from a Greek Island on the Pleasures of Old Age
Paperback
Description
Our society worships at the fountain of youth. Each year, we try to delay the arrival of old age, using everything at our disposal, from extreme exercise and botox to pilates and cosmetic dentistry.
But in the process, are we missing out on a distinct and extraordinarily valuable stage of life?
Asking whether it is better to be forever young or to grin toothlessly and live an authentic old age, bestselling author Daniel Klein journeys to the Greek island of Hydra.
There he draws on the lives of octogenarian Greek locals, as well as philosophers ranging from Epicurus to Sartre, to discover the secrets of ageing happily.
An escapist travel memoir, a droll meditation, and an optimistic guide to living well, this is a delightful jaunt through the terrain of old age, led by a witty and uniquely perceptive modern-day sage.
Information
Format: Paperback
Pages: 176 pages
Publisher: Oneworld Publications
Publication Date: 01/05/2014
Category: Popular philosophy
ISBN: 9781780744124
Free Home Delivery
on all orders
Pick up orders
from local bookshops
Reviews
Showing 1 - 1 of 1 reviews.
Review by CliffordDorset
27/08/2015
There's something about the Greek island of Hydra, splendidly isolated despite its short distance from Athens by hydrofoil. Unlike its neighbour, Spetses, it has eschewed modern 'conveniences' such as the car, but its aims are similar, resisting the changes demanded by the common tourist. Klein chose this island for the sort of contemplative life that mankind is drawn to on reaching old age, and this book is a charmingly written 'philosophical memoir' which probes his feelings on a life which, though active, approaches its finality. He begins with the musings of Epicurus and wanders simply and slowly through a variety of other philosophers who, over the ages, have handed on their own thoughts. Having just reached seventy myself I found friends and kindred spirits among these distinguished authors, and the book has helped me order my thoughts, so different now from when I lived at earlier ages.I would recommend this book to one of my age who might benefit from seeing what others have made of their situation. A charming book, not over-long but seemingly comprehensive.