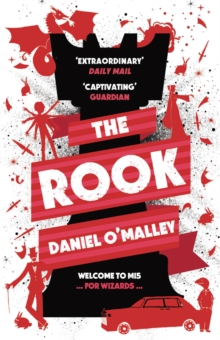 Description
'The body you are wearing used to be mine.' So begins the letter Myfanwy Thomas is holding when she awakes in a London park surrounded by bodies all wearing latex gloves.
With no recollection of who she is, Myfanwy must follow the instructions her former self left behind to discover her identity and track down the agents who want to destroy her.
She soon learns that she is a Rook, a high-ranking member of a secret organization called the Checquy that battles the many supernatural forces at work in Britain.
She also discovers that she possesses a rare and deadly supernatural ability of her own.
Information
Format: Paperback
Pages: 496 pages
Publisher: Head of Zeus
Publication Date: 01/08/2013
Category: Fantasy
ISBN: 9781908800985
Free Home Delivery
on all orders
Pick up orders
from local bookshops
Reviews
Showing 1 - 4 of 4 reviews.
Review by wyvernfriend
16/06/2015
Almost a 4 star read. Just not quite, maybe 3.75 stars for me. Shows a lot of potential but I found it too easy to put it down.In a Jason Bourne meets Torchwood meets urban fantasy-esque scenario, a woman wakes up in a London Park, dripping wet, badly bruised but alive, unlike the corpses surrounding her, in her coat pocket is a letter from herself, Myfanwy Thomas who is a senior member (Rook) in a supernatural agency that keeps the Supernatural from invading the lives of too many of it's citizens. She discovers that she knew she was going to lose her memory so she prepared for this, with her best skills, organisation. She is given a choice, run or play with the cards she's dealt and she has to learn, fast, what's going on.Best excuse for some of the infodumps you get in the form of lletters., also best excuse for having to explain the organisation to the audience, because she doesn't know anything more than she uncovers. What kinda lost me was the way the bad guys didn't seem to have a motive beyond "because they want to". No mention of what happened to a shadowy organisation during the conflicts of the 20th century Huge potential lost in where the shadowy organisations would possibly have had to work together against Nazis); if you poke the plot hard enough it starts to crumble a bit. There's a lot of history of now, but before that has a lot of handwaving and you can't do that when you root a story in the known world.It's interesting, shows potential and the main character is growing an interesting backbone.
Review by TPauSilver
16/06/2015
The Rook is a fun Urban Fantasy novel. It deals with a girl called Myfanwy Thomas who wakes up in a park surrounded by dead bodies wearing gloves with no idea who she is or what she's doing there. She apparently planned for her own memory loss and is able, with the help of her past self, to take a roll in the secret organisation that protects the UK from, well, weird stuff. She soon becomes embroiled in finding a plot against the organisation and trying to save her own life. I loved that this book was genuinely funny. Some of the powers people are given are hilarious. Some of the situations described are hilarious. Myfanwy's reactions to things are hilarious. It's a good, fun read and there's some superficial treatment of some deeper ideas about taking children from their families and stuff like that but they aren't really explored in enough depth to darken the novel. That said, as much as I enjoyed this book it does read like a first novel. This is in no way a bad thing as every author has to write a first novel but there are a few things I noticed that stop this getting a 5. We had two plots, the one where Myfanwy's lost her memory and the one with the traitor in the organisation. It doesn't ever feel like they're really integrated. Myfanwy does resolve it all but only by kind of reacting to situations. Of the two traitors one is so obvious that they might as well sit there twirling their mustache and cackling evilly and the other is completely out of the west field. I kept getting the various members of the court confused in my head which didn't help, a little more relationship building with them might have been good. None of these majorly impacted how fun the novel was, though, if you were willing to just go along for the ride and they're almost certainly things that will improve in later novels so I'm very interested to see where the author goes from here.
Review by riverwillow
16/06/2015
An absolutely brilliant concept for a book, I loved the idea of the main character discovering who and what she was at the same time as the reader and what a great opening chapter. The rest of the book more or less sustained the pace and this bodes well for later instalments in the series. I look forward to reading more of O'Malley's books.
Review by infjsarah
16/06/2015
There has been a lot of good talk in LT about this book, so I finally read it. I thoroughly enjoyed it too. A strong central female character and interesting plot. Set in UK and written by an Australian, there were a couple of points where characters say something that a Brit wouldn't say but they were minor and didn't distract from the enjoyment. I'll be reading the next book and that's a big recommendation.